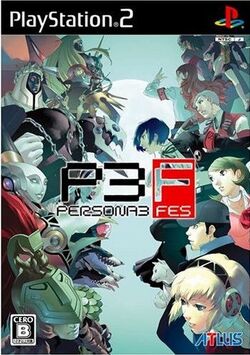 Persona 3: FES is an epilogue and enhancement for Persona 3. It serves as the 5th entry in the Persona Series, and it contains an estimated 30 additional hours of gameplay over the original Persona 3, most of which comes in the form of an epilogue called Episode Aegis (The Answer in the English Localization). According to the games director, the term FES stems from the word Festival.
Release Date
Japan: 19 April, 2007 as an append for PS2
Japan: 19 April, 2007 as Persona 3 with additional content for PS2
North America: 22 April, 2008 as Persona 3 with additional content for PS2
Europe: 17 October, 2008 as Persona 3 with additional content for PS2
Episode Yourself
Episode Yourself, also known as The Journey in the English localizations, is an enhanced version of Persona 3. It includes the entire original game, but with several changes. The number of Personae in the game has increased, secret videos of the Protagonist's dorm mates have been added to flesh them out, and Koromaru can now be taken on a walk. Several of the Social Links have been modified slightly, such as Tanaka being available at a different time. Several new requests from Elizabeth have been added, as well as new costumes to be worn in battle. A new event involving Chidori was added, and the way Naganaki Shrine functions has completely changed. A hard mode has also been added. Save data from Persona 3 can be transfered into the game, but only a few things carry over, such as Persona Compendium and Social Stats, such as Academics or Courage. Additionally, the items received for completing social links will also carry over.
Episode Aegis
Episode Aegis, also known as The Answer in English Localizations, is an epilogue which continues from the end of Persona 3. Episode Aegis is only available in one difficulty setting, which is supposed to be on par with Persona 3's Hard mode. Episode Aegis is approximately 30 hours longs, and allows the player to control Aegis. The epilogue follows S.E.E.S. on a new adventure involving a new dungeon that has distorted time and trapped them inside the Dorm. It also introduces a new playable character named Metis.
External Links
Box Artwork
Community content is available under
CC-BY-SA
unless otherwise noted.