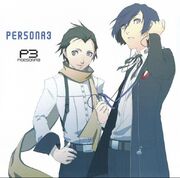 Persona 3 Character Drama CD Vol.1 (キャラクタードラマCD ペルソナ3 Vol.1) is a Persona 3 drama CD.
Release Date
[
]
Plot
[
]
As the title implies, this is the first in a series of drama CDs that take a closer look at particular characters and relationships within the series. This first CD touches on the relationship of the protagonist and Ryoji Mochizuki through a series of encounters with his Social Link acquaintances in an afternoon they are out together with Junpei Iori.
It opens with the protagonist seeking Junpei's help in acquiring three Jack Frost dolls. Ryoji, intrigued by their exchange, offers the protagonist a Goggle-Eyed Idol. Though reluctant to accept it, the protagonist eventually does, but an encounter with Mutatsu leads to it being traded for some sushi. Following this they encounter President Tanaka, Bunkichi, Maiko Oohashi, and Akinari Kamiki in succession, giving each the item they acquired in the precious encounter and acquiring something in return. With the final case of Akinari, the protagonist receives a bookmark the other found, which turns out to be Elizabeth's.
The CD ends as the protagonist returns it to Elizabeth only for her to give him more coins to continue working on acquiring Jack Frost dolls for her.
Cast
[
]
This drama CD marks the first time a few characters have gotten voices.
Gallery
[
]