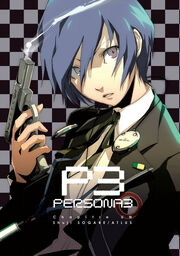 The Persona 3 Manga is a manga adaption of the game Persona 3 written by Shūji Sogabe. Each volume is referred to as a Chapitre, which is French for Chapter. Each individual chapter is referred to as a Piece and given a French name. The protagonist is named Minato Arisato (有里湊). The manga adaption is extremely similar to the game, as of the third volume, almost no changes to the plot were made.
Chapitre Un
Chapitre Deux
Chapitre Trois
Chapitre Quatre
Chapitre Cinq
Chapitre Six
Chapitre Sept
Chapitre Huit
Chapitre Neuf
Chapitre Dix
Chapitre Onze
Community content is available under
CC-BY-SA
unless otherwise noted.