Fire Emblem Warriors: Three Hopes - The Loop
Play Sound
This article is about the year-wide event. For for the local festival based on the event, see Persona 25th FES.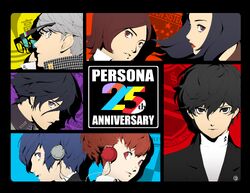 Persona 25th Anniversary is a special event to celebrate the respective anniversary of the Persona series.
Profile
[
]
The event was first announced on July 13th, 2021, and would begin months later on September 20th. 7 new Persona-related projects are to be unveiled, planned to be announced throughout the respective year, with the last one expected to be unveiled in Fall 2022. Some of these projects include ports of old games to new consoles.
Aside from projects, merchandise and collaboration events themed around the event have also been stocked periodically during the event.
Meanwhile, in the west, a different arrangement of projects would be revealed. On September 20th, a set of themed wallpapers were released. The announcements for game ports seemingly take priority in the West, rather than the usual Japan.
Game ports
[
]
This topic is in need of research for the following reason:
* Double-check how promotion and announcements were handled in Japan, as promotion seems to take priority in the West this time.


This can be discussed on the article's talk page.
During The Game Awards 2021 on December 10th[1], it was announced that Persona 4 Arena Ultimax would be ported on PlayStation 4, Nintendo Switch and Steam, having released on March 17th, 2022.
During the Xbox and Bethesda Showcase on June 12th, 2022[2], ports of Persona 3 Portable, Persona 4 Golden and Persona 5 Royal were announced for the Xbox One, Xbox Series X/S and Microsoft Windows via the Microsoft Store. Persona 5 Royal would be released on October 21st, 2022. The event was labeled to be part of the 25th anniversary.
Later on June 13th, it was confirmed that Persona 3 Portable and Persona 5 Royal would be ported on Steam*, and that P5R would be released for the PlayStation 5. Additionally, P3P and P4G would be set to release in 2023.[3] It was also confirmed that P3P and P4G would be distributed on the PlayStation 4.[4] On June 28th, during a Nintendo Direct Mini, ports for the three games were also announced to arrive on the Nintendo Switch.[5]
Persona 25th Times

[

]
Persona 25th Times is a video series based on revealing announcements on major projects of the Persona 25th Anniversary. Similarly to Morgana's Report and Traveling Morgana's Newsletter, some volumes in the series would be hosted by Morgana, whereas others would have Teddie hosting instead. The series is captioned in English.
Vol. 1
[
]
Vol. 1 was released on September 20th, 2021. Several announcements were made.
A Symphonic Concert will be held on November 21, 2021 in celebration of the Persona series 25th Anniversary.
All previously produced Persona anime series (this includes all 4 Persona 3 movies, Persona 4 The Animation, Persona 4 The Golden Animation, Persona 5 The Animation, Dark Sun..., Stars and Ours and Persona -trinity soul-)[6] were released onto Japan streaming services along with Persona 5 The Stage.
The singer of the Persona 5 soundtrack, Lyn Inaizumi, would also appear on the "Love Sega special Live" segment of the "Sega Atlus Channel" for Tokyo Game Show 2021, scheduled on October 3rd, 9:40PM JST.
The next Persona 25th Times video is planned to be released in December 2021.[7][8]
Vol.2
[
]
Following the announcement of Persona 4 Arena Ultimax's port on December 12th, several additional news were brought to light via the series:
The soundtracks of Persona 5 Royal and Persona 5 Strikers were announced for pre-order, this time including Colors Flying High and Towards a Dream.[9]
A 2nd set of merchandise was revealed, which would all go on sale in March 2022. Together with it, a record box set, featuring selections from the entirety of the mainline Persona series, has been released for pre-order, specifically around December 15th. Additionally, a portable record player has been announced.
Additionally, the collaboration between Persona 25th Anniversary and Sega Collaboration Cafe has been announced.
Vol.3
[
]
Hosted on February 28th and Teddie returning as the ambassador, several announcements to events and goods were made:
The Persona 25th FES event has been announced, which would take place from May 28th to July 10th in Tokorozawa Sakura Town.[10]
A stream featuring Yu Narukami's Japanese voice actor, Daisuke Namikawa, will be held before the release of Persona 4 Arena Ultimax.[10]
1st half of the SEGA Collaboration Cafe is now available. Features taiyaki of Koromaru, Teddie and Morgana.[10][11]
SEGA Lucky Lottery Online: a lottery including merchandise themed around the event.[10]
Pop-up stores are to be held in Tokyo, Osaka and Fukuoka.[10]
Ani-Arts goods are on sale, will be sold in said pop-up stores.[10]
The aforementioned Tarot Card replica merchandise will be given by lottery to 5 people.[10]
Vol.4
[
]
As teased beforehand[9], the hosts of volume 4 are both Teddie and Morgana.
Collaborations
[
]
On September 30th, 2021 it was announced via Twitter that the Persona series would be having a collaboration event with Roll Ice Cream Factory.[12] Later on October 6th, key art of the protagonists was revealed,[13][14][15] and 2 days later, it was clarified the collaboration will be held from October 22nd, 2021 to November 21st, 2021. The special collaboration menu as well as related merchandise were also introduced: coasters, acrylic stands, clear files, can badges, a stainless steel tumbler, a face towel and heat conduction spoons.[16][17][18]
On November 11, 2021 it was announced by Bandai Namco that from December 17, 2021 to January 30, 2022 there will be a collaboration event for the Persona 25th Anniversary at Namjatown,[19][20] Namjatown is an indoor theme park.
Merchandise
[
]
On September 30th, 2021 it was announced that Prime 1 Studio will be releasing figures based on the Persona protagonists under their Cutie1+ line of figures in commemoration of the event.[21][22] The figures will all be released within November 2022.[23]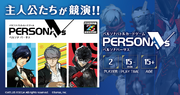 On October 11th, 2021 it was announced that a card battle game called Persona VS will be released in December 2021. The product is manufactured in commemoration of the event as well.[24][25]
Other
[
]
In commemoration of the anniversary, from September 16th to October 4th, 2021, there was a 40% off sale for the games Persona 5 Royal, Persona 5 Strikers, Persona 3: Dancing in Moonlight, Persona 5: Dancing in Starlight, Persona Q: Shadow of the Labyrinth and Persona Q2: New Cinema Labyrinth. The DLC of the respective games, of Persona 4: Dancing All Night included, were also on sale on up to 50% off.[26](while the 25th anniversary event did not officially start until the first Persona 25th Times on September 20th, 2021, this was announced and started on September 16th, 2021.)
Gallery
[
]
General
[
]
Videos
[
]
Wallpapers
[
]
Merchandise
[
]
First Set (September 2021)
[
]
Second Set (February 2022)
[
]
Cutie1+
[
]
Roll Ice Cream Factory
[
]
Persona Pop-Up Store
[
]
Trivia
[
]
The protagonists' trading cards are sold in a set of 8, with one of the cards being kept secret.

Similarly a set of 11 posters from all games in the series has two posters kept a secret.

The beginning of the event, or rather the first Persona 25th Times, occurred on September 20th, the release date of Megami Ibunroku Persona, or exactly on the day of the series' 25th anniversary.
External Links
[
]
General
Remasters
Collaborations
References
[
]
↑ Persona 4 Arena Ultimax Announced For PS4, Switch, And PC, IGN (Kat Bailey, Posted: 10 Dec 2021 3:01 am / Updated: 10 Dec 2021 3:05 am)
↑ Xbox and Bethesda Games Showcase 2022: Everything Announced and Revealed, IGN (Kevin Lee, Posted: 12 Jun 2022 8:11 pm / Updated: 13 Jun 2022 4:22 am)
↑ The Persona series is coming to Xbox and Windows PC, Eurogamer (Ed Nightingale, Updated on 13 Jun 2022)
↑ Persona 5 Royal Confirmed for PS5, Steam Release. Persona 4 Golden for PS4, Persona 3 Portable for PS4, Steam, Persona Central (Alex, June 14, 2022)
↑ Everything Announced During Today's Nintendo Direct Mini, Including Persona 5 on Switch, IGN (Matt Kim, Updated: 28 Jun 2022 4:56 pm, Posted: 28 Jun 2022 4:10 pm
↑ 9.0 9.1 【P25th】ペルソナ25thタイムズVol.2公開!詳しい情報はコチラ!, Persona Channel (2021.12.10)
↑ 10.0 10.1 10.2 10.3 10.4 10.5 10.6 【P25th】「ペルソナ25thフェス」開催決定!「ペルソナ25thタイムズVol.3」公開!, p-ch (2022.02.28)
↑ 【P25th】「セガコラボカフェ ペルソナ25th 前期」まもなく開催!モルガナ・クマ・コロマルのたい焼きも登場!, p-ch (2022.02.08)