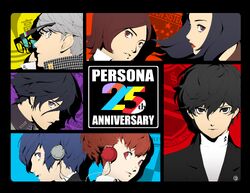 Persona 25th Anniversary is a special event to celebrate the respective anniversary of the Persona series.
Profile
The event is going to take place in September 2021. 7 new Persona-related projects are to be unveiled, presumably planned to be announced from 2021 through 2022, with the last one expected to be unveiled in Fall 2022.
Various merchandise themed around the event is also planned to be stocked then.
Persona 25th Times
Persona 25th Times is a video series based on revealing the announcements of the Persona 25th Anniversary. They are hosted by Morgana, similarly to Morgana's Report and Traveling Morgana's Newsletter. The series is captioned in English.
Vol. 1
Vol. 1 was released on September 20th, 2021. Several announcements were made: a Symphonic Concert will be held on November 21, 2021 in celebration of the Persona series 25th Anniversary. Additionally, all previously produced Persona anime series (this includes all 4 Persona 3 movies, Persona 4 The Animation, Persona 4 The Golden Animation, Persona 5 The Animation and Persona -trinity soul-)[1] will be released onto Japan streaming services along with Persona 5 The Stage. The singer of the Persona 5 soundtrack, Lyn Inaizumi, will also appear on the "Love Sega special Live" segment of the "Sega Atlus Channel" for Tokyo Game Show 2021. The next Persona 25th Times video is planned to be released in December 2021.[2][3]
Gallery
General
Videos
Merchandise
Trivia
The protagonists' trading cards are sold in a set of 8, with one of the cards being kept secret.

Similarly a set of 11 posters from all games in the series has two posters kept a secret.
External Links
References