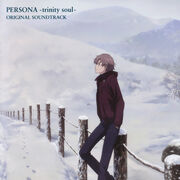 Persona -trinity soul- Original Soundtrack is the soundtrack album for the anime Persona -trinity soul-.
Der Mond Zeigt mir Meine Eigne Gestalt ~From Heine's Doppelganger~
Trinity Soul
Still Moment
Hidden Truth (隠された真実)
Marebito (稀人)
Awaken the Power of Thy Soul (目覚めしは汝が魂の力)
Just Another Day
Burning Men's Soul (燃える漢の魂)
Quiet Determination (静かなる決意)
Living in the Dark... (闇に生きて……)
Marebito -another remix- (稀人 -another remix-)
Shock!!
Fall in Decay
Nightmare
Turning Point
Brother's Feelings (兄の想い)
Der Mond zeigt mir meine eigne Gestalt -another ver.-
Between Consciousness and Unconsciousness (意識と無意識の狭間)
Dead End
Trinity Soul ~piano ver.~
Old Wise Man
Greatmother
A Visitor (来訪者)
Eternity (永遠)
Time Limit
Prelude to Destruction (崩壊の序曲)
Solitude (孤独)
Labyrinth of the Mind (心理迷宮)
Assault (急襲)
Passion & Passion
Re: Birth of Destiny
Soul Embraced by the Wind (風に抱かれし魂)
Abyss of Despair
Gynoid
A Binding Prayer (結ぶ祈り)
Frontier
Memories
Community content is available under
CC-BY-SA
unless otherwise noted.