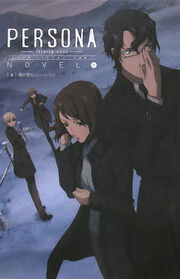 Persona -trinity soul- Novel (ペルソナ~トリニティ・ソウル~novel) is a Persona -trinity soul- novelization.
Japan: October 10, 2008 (Volume 1)
Japan: November 29, 2008 (Volume 2)
The Persona -trinity soul- Novel is a two volume novelization of the series published through Village Books and written by Tetsuya Katsuzawa who previous wrote the Persona 3 FES: Alternative Heart novel, which included an epilogue that tied into the events of the series. The novels are designed to be complementary to the series and focus on incorporating more of the Marebito's side of events into the main half of the story. The first volume covers the first half of the series and the second volume covers the events starting from Episode 14 onward.
Community content is available under
CC-BY-SA
unless otherwise noted.