Fire Emblem Warriors: Three Hopes - The Loop
Play Sound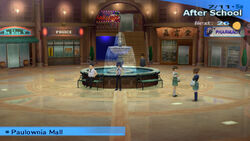 Paulownia Mall (ポロニアンモール, Poronian Mouru)? is a location in Persona 3 and Persona 3 Portable. Located in Tatsumi Port Island, it is an important commercial area. The protagonist can access only a few places at the mall. It is named after the first chapter of The Tale of Genji, "The Paulownia Court/Pavilion." The area's theme music is "Paulownian Mall."
Appearances
[
]
Locales
[
]
Located at the right side is the mall's game arcade. The protagonist may spend time with a Social Link here. In Persona 3 FES and Persona 3 Portable, certain games can be played to increase the stats of currently equipped Persona. Besides arcade games, there is also a crane game located outside the arcade which costs 200 yen per game, and does not use up any in-game time.
Power Records

A store that sells music albums. Despite the inability to enter or do anything with the store, during weekends the protagonist may spend time with a Social Link here.
Aohige Pharmacy

Sells recovery items. Gives a discount on Saturdays.
Shinshoudo Antiques

An antique shop where the protagonist can trade gems found in Tartarus and fuse Personas with weapons in order to create strong equipment. The antique shop opens on June 9th.
Velvet Room Entrance

Located below the Karaoke Bar Mandragora, it serves as an alternate entrance to the Velvet Room.
Mandragora

A Karaoke Bar, where the protagonist can increase their Courage stat.
Police Station

The Police Station is introduced to the protagonist after Akihiko asks to speak with the protagonist and Junpei. Sells weapons and armor. Depending on the level of the protagonist, more and more weapons will become available. In P3 and FES, the Police Station cannot be accessed during the evening, though it is possible in Persona 3 Portable. Gives a discount on Mondays.
Be blue V

A shop that sells accessories. In Persona 3 Portable, the protagonist can choose to take part in a part-time job. It is closed during evenings. Gives a discount on Sundays. In Persona 3 Portable, this shop does not sell items - the Police Station now sells all equipment.
Sells Pheromone Coffee for 500 yen that increases Charisma (Charm). In Persona 3 Portable, the protagonist can take part in part-time jobs in the cafe on Mondays, Tuesdays, and Wednesdays. Working will increase Charm and Courage and pays 3000 yen. The same cafe can be found in Okina City featured in Persona 4 Golden.
Club Escapade

Opens during evenings. Where the Tower Social Link, Mutatsu, is found. In Persona 4, the Investigation Team visit this Club during their school trip at Tatsumi Port Island.
Gallery
[
]
Trivia
[
]