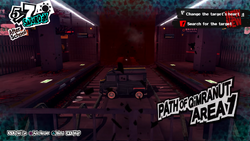 The Path of Qimranut (思想奪われし路, Shisou Ubawa Reshi Michi)? is the first area of Mementos in Persona 5.
Morgana will introduce the Phantom Thieves to Mementos on May 7th. Qimranut consists of two areas, with the second being a long platform that is blocked by a large door. Morgana won't allow exploration past Qimranut on the first day, requiring the party to return at a later date to explore further. Visually, Qimranut consists of a subway tunnel with gray walls, which has red, veinous growths and large suspended chains along its corridors. The tunnels are bathed in a red ambience.
This area features enemies seen in Kamoshida's Palace.
Item
Type
Item
Type
Item
Type
Devil Fruit
Item
Dry Ice
Item
Tesla Coil
Item
Plant Balm
Material
Thick Parchment
Material
Thin Copper
Treasure
Hole Copper
Treasure
Thin Silver
Treasure
Onyx
Treasure
Pearl
Treasure
Item
Type
Item
Type
Item
Type
Life Stone x1
Item
Grooved Silver x2
Treasure
Thin Gold x2
Treasure
Blizz Dagger
Dagger
Ryozanpaku Sword
Sword
Grimy Gear
Armor
Soiled Armor
Armor
Chain Vest
Armor
Robust Apron
Armor
Survival Vest
Armor
Power Camisole
Armor
Athletic Shirt
Armor
Berserk Anklet
Accessory
Willful Belt
Accessory
Shadow
Arcana
Lv
HP
SP
Affinity
Area
Request
Shadow Nakanohara
Fool
15
650
50
Str
-
-
-
Wk
-
-
-
-
-
1
Beware the Clingy Ex-boyfriend
Community content is available under
CC-BY-SA
unless otherwise noted.