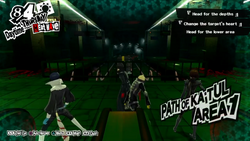 The Path of Kaitul (美徳奪われし路, Bitoku Ubawa Reshi Michi)? is the fourth area of Mementos in Persona 5.
The Path of Kaitul can first be accessed by the Phantom Thieves on July 11th. Kaitul consists of 10 areas, with the rest platform being the sixth area and the end platform being the tenth. Kaitul is visually identical to Chemdah, with the same crumbling tiles and breakable walls, but possesses a dark green ambience throughout the area. Shadows in the zone consist of those primarily found in Kaneshiro's Palace.
Item
Type
Item
Type
Item
Type
Life Stone
Item
Cyclone Magatama
Item
Kagutsuchi Orb
Item
Aluminum Sheet
Material
Tanned Leather
Material
Grooved Copper
Treasure
Hole Copper
Treasure
Thin Silver
Treasure
Amethyst
Treasure
Aquamarine
Treasure
Item
Type
Item
Type
Item
Type
Blank Card
Skill Card
Thin Gold x1
Treasure
Hole Gold x2
Treasure
Spike Rod
Bludgeon
Hell Knuckles
Gloves
Tarnished Gear
Armor
Gold-tainted Armor
Armor
Elysian Robe
Armor
Id Collar
Armor
Plate Vest
Armor
Amrita Soda
Item
Brigandine
Armor
Spiked Bra
Armor
Memorial Collar
Armor
Gigas Vest
Armor
Black Rock
Accessory
Hero Eyepatch
Accessory
Community content is available under
CC-BY-SA
unless otherwise noted.