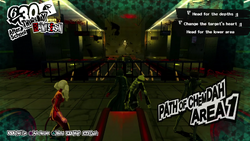 The Path of Chemdah (節制奪われし路, Sessei Ubawa Reshi Michi)? is the third area of Mementos in Persona 5.
The Path of Chemdah can be accessed by the Phantom Thieves on June 6th. Chemdah consists of eight areas, with the rest platform being in the fifth area and the end platform as the eighth. Visually, Chemdah consists of the same subway zones, but with deteriorating tiles and a yellow ambience. Chemdah also introduces breakable walls which Morgana can ram through to reveal treasure chests. Shadows found in the Path of Chemdah correspond to the Shadows found in Madarame's Palace.
Item
Type
Item
Type
Item
Type
Devil Fruit
Item
Kagutsuchi Orb
Item
Straw Doll
Item
Thick Parchment
Material
Plant Balm
Material
Thin Copper
Treasure
Hole Copper
Treasure
Thin Silver
Treasure
Pearl
Treasure
Amethyst
Treasure
Item
Type
Item
Type
Item
Type
Blank Card x1
Skill Card
Thin Gold x1
Treasure
Hole Gold x2
Treasure
Talwar
Curved Sword
Imitation Katana
Japanese Sword
Acrylic-coated Gear
Armor
Paint-flecked Armor
Armor
Army Vest
Armor
Power Camisole
Armor
Athletic Shirt
Armor
Blank Card x3
Skill Card
Papal Robes
Armor
Elysian Robe
Armor
Id Collar
Armor
Plate Vest
Armor
Armada Belt
Accessory
Community content is available under
CC-BY-SA
unless otherwise noted.