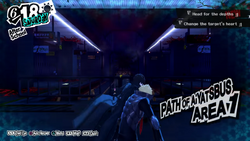 The Path of Aiyatsbus (調和奪われし路, Chouwa Ubawa Reshi Michi)? is the second area of Mementos in Persona 5.
The Path of Aiyatsbus can be accessed by the Phantom Thieves after their initial exploration of Mementos on May 7th. Aiyatsbus consists of seven areas, with a rest area in the fourth area and the end platform being the seventh area. Visually, Aiyatsbus is a darker version of Qimranut with the same chains and veinous growths, but with a dark blue ambience instead of red.
Morgana will warn the party about a dangerous Shadow upon entering the area. From Aiyatsbus onward, idling too long in an area will cause the Reaper to spawn on the floor and begin stalking the party. The Reaper's presence can be determined by the sound of rattling chains and a pulsing red ripple appearing on the screen every few seconds.
Item
Type
Item
Type
Item
Type
Devil Fruit
Item
Blowtorch
Item
Tesla Coil
Item
Thick Parchment
Material
Tin Clasp
Material
Thin Copper
Treasure
Hole Copper
Treasure
Hole Silver
Treasure
Onyx
Treasure
Pearl
Treasure
Item
Type
Item
Type
Item
Type
Revival Bead x1
Item
Grooved Silver x1
Treasure
Thin Gold x2
Treasure
Heavy Steel Pipe
Bludgeon
Training Whip
Whip
Grimy Gear
Armor
Soiled Armor
Armor
Breeze Scarf
Armor
Robust Apron
Armor
Survival Vest
Armor
Bead
Item
Balm of Life
Item
Army Vest
Armor
Power Camisole
Armor
Athletic Shirt
Armor
Rune Amulet
Accessory
Thunder Cape
Accessory
Gale Cape
Accessory
Shelter Ring
Accessory
Community content is available under
CC-BY-SA
unless otherwise noted.