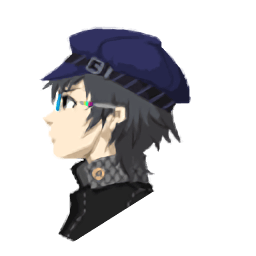 This article covers information on Naoto Shirogane as a party member, uses and strategies in Persona 4.
Overview
[
]
Naoto joins the Investigation Team after the Secret Laboratory has been cleared by defeating Shadow Naoto.
Naoto has balanced Strength and Magic, being able to multitask between Physical, Light/Dark and Almighty attacks. Naoto has the highest Agility stat out of the whole group. After learning Hama Boost, Mudo Boost, Mahamaon and Mamudoon, she can quickly perform crowd control to reduce the number of enemies on the field. However, as bosses tend to nullify Light and Dark skills, this will limit her options during boss encounters.
Naoto is resistant to Light and Dark, and doesn't have any weaknesses.
If the protagonist maxes out Naoto's Social Link, her Persona Sukuna-Hikona will evolve into Yamato-Takeru. She'll be able to nullify Light and Dark attacks, and resist Fire in the process. Additionally, her Magic and Luck will be slightly lowered, but will earn a bit of Endurance in the process.
Persona 4 Golden

[

]
In Persona 4 Golden, if Naoto's Social Link has been maxed out before winter, the protagonist will be able to talk to them afterwards, evolving her Persona to Yamato Sumeragi. She'll be able to completely repel Light and Dark attacks, and nullify Fire. She'll also be able to learn Shield of Justice, protecting the party from damage once.
Base Stats
[
]
Note: These are the base stats for Level 99.
| Inherit | Reflects | Absorbs | Block | Resists | Weak |
| --- | --- | --- | --- | --- | --- |
| - | - | - | - | Light, Dark | - |
List of Skills

Skill
Cost
Effect
Level
Tempest Slash
15% HP
Deals heavy Phys damage to 1 foe 1x to 2x.
Innate
Mudoon
15 SP
Darkness: medium chance of instant kill, 1 foe. (60% chance)
Innate
Hamaon
15 SP
Light: medium chance of instant kill, 1 foe. (60% chance)
Innate
Megidola
32 SP
Deals heavy Almighty damage to all foes.
Innate
Deathbound
20% HP
Deals heavy Phys damage to all foes.
Innate
Mind Charge
15 SP
Next magical attack will be 250% greater in power.
56
Blight
16% HP
Deals heavy Phys damage to all foes with a chance of Poison.
58
Mudo Boost
Passive
Darkness-based attacks are 1.5 times more effective.
64
Hama Boost
Passive
Light-based attacks are 1.5 times more effective.
66
Mamudoon
34 SP
Darkness: medium chance of instant kill, all foes. (40% chance)
68
Mahamaon
34 SP
Light: medium chance of instant kill, all foes. (40% chance)
70
Vorpal Blade
25% HP
Deals heavy Phys damage to all foes.
73
Megidolaon
60 SP
Deals severe Almighty damage to all foes.
75
| Inherit | Reflects | Absorbs | Block | Resists | Weak |
| --- | --- | --- | --- | --- | --- |
| N/A | - | - | Light, Dark | Fire | - |
List of Skills

Skill
Cost
Effect
Level
Tempest Slash
15% HP
Deals heavy Phys damage to 1 foe 1x to 2x.
Innate
Mudoon
15 SP
Darkness: medium chance of instant kill, 1 foe. (60% chance)
Innate
Hamaon
15 SP
Light: medium chance of instant kill, 1 foe. (60% chance)
Innate
Megidola
32 SP
Deals heavy Almighty damage to all foes.
Innate
Deathbound
20% HP
Deals heavy Phys damage to all foes.
Innate
Mind Charge
15 SP
Next magical attack will be 250% greater in power.
56
Blight
16% HP
Deals heavy Phys damage to all foes with a chance of Poison.
58
Mudo Boost
Passive
Darkness-based attacks are 1.5 times more effective.
64
Hama Boost
Passive
Light-based attacks are 1.5 times more effective.
66
Mamudoon
34 SP
Darkness: medium chance of instant kill, all foes. (40% chance)
68
Mahamaon
34 SP
Light: medium chance of instant kill, all foes. (40% chance)
70
Vorpal Blade
25% HP
Deals heavy Phys damage to all foes.
73
Megidolaon
60 SP
Deals severe Almighty damage to all foes.
75
| Inherit | Reflects | Absorbs | Block | Resists | Weak |
| --- | --- | --- | --- | --- | --- |
| - | - | - | - | Light, Dark | - |
List of Skills

Skill
Cost
Effect
Level
Tempest Slash
15% HP
Deals heavy Phys damage to 1 foe 1x to 2x.
Innate
Agidyne
12 SP
Deals heavy Fire damage to 1 foe.
Innate
Garudyne
12 SP
Deals heavy Wind damage to 1 foe.
Innate
Mudoon
15 SP
Darkness: medium chance of instant kill, 1 foe. (60% chance)
Innate
Hamaon
15 SP
Light: medium chance of instant kill, 1 foe. (60% chance)
Innate
Megidola
32 SP
Deals heavy Almighty damage to all foes.
Innate
Deathbound
20% HP
Deals heavy Phys damage to all foes.
Innate
Tetrakarn
36 SP
Barrier that reflects phys dmg once. (1 ally)
56
Blight
16% HP
Deals heavy Phys damage to all foes with a chance of Poison.
58
Mudo Boost
Passive
Darkness-based attacks are 1.5 times more effective.
60
Hama Boost
Passive
Light-based attacks are 1.5 times more effective.
62
Makarakarn
36 SP
Barrier that reflects magic dmg once. (1 ally; excludes Almighty attacks)
64
Mamudoon
34 SP
Darkness: medium chance of instant kill, all foes. (40% chance)
68
Mahamaon
34 SP
Light: medium chance of instant kill, all foes. (40% chance)
70
Vorpal Blade
25% HP
Deals heavy Phys damage to all foes.
73
Megidolaon
60 SP
Deals severe Almighty damage to all foes.
75
| Inherit | Reflects | Absorbs | Block | Resists | Weak |
| --- | --- | --- | --- | --- | --- |
| N/A | - | - | Light, Dark | Fire | - |
List of Skills

Skill
Cost
Effect
Level
Tempest Slash
15% HP
Deals heavy Phys damage to 1 foe 1x to 2x.
Innate
Agidyne
12 SP
Deals heavy Fire damage to 1 foe.
Innate
Garudyne
12 SP
Deals heavy Wind damage to 1 foe.
Innate
Mudoon
15 SP
Darkness: medium chance of instant kill, 1 foe. (60% chance)
Innate
Hamaon
15 SP
Light: medium chance of instant kill, 1 foe. (60% chance)
Innate
Megidola
32 SP
Deals heavy Almighty damage to all foes.
Innate
Deathbound
20% HP
Deals heavy Phys damage to all foes.
Innate
Tetrakarn
36 SP
Barrier that reflects phys dmg once. (1 ally)
56
Blight
16% HP
Deals heavy Phys damage to all foes with a chance of Poison.
58
Mudo Boost
Passive
Darkness-based attacks are 1.5 times more effective.
60
Hama Boost
Passive
Light-based attacks are 1.5 times more effective.
62
Makarakarn
36 SP
Barrier that reflects magic dmg once. (1 ally; excludes Almighty attacks)
64
Mamudoon
34 SP
Darkness: medium chance of instant kill, all foes. (40% chance)
68
Mahamaon
34 SP
Light: medium chance of instant kill, all foes. (40% chance)
70
Vorpal Blade
25% HP
Deals heavy Phys damage to all foes.
73
Megidolaon
60 SP
Deals severe Almighty damage to all foes.
75
| Inherit | Reflects | Absorbs | Block | Resists | Weak |
| --- | --- | --- | --- | --- | --- |
| N/A | Light, Dark | - | Fire | - | - |
List of Skills

Skill
Cost
Effect
Level
Tempest Slash
15% HP
Deals heavy Phys damage to 1 foe 1x to 2x.
Innate
Agidyne
12 SP
Deals heavy Fire damage to 1 foe.
Innate
Garudyne
12 SP
Deals heavy Wind damage to 1 foe.
Innate
Mudoon
15 SP
Darkness: medium chance of instant kill, 1 foe. (60% chance)
Innate
Hamaon
15 SP
Light: medium chance of instant kill, 1 foe. (60% chance)
Innate
Megidola
32 SP
Deals heavy Almighty damage to all foes.
Innate
Deathbound
20% HP
Deals heavy Phys damage to all foes.
Innate
Tetrakarn
36 SP
Barrier that reflects phys dmg once. (1 ally)
56
Blight
16% HP
Deals heavy Phys damage to all foes with a chance of Poison.
58
Mudo Boost
Passive
Darkness-based attacks are 1.5 times more effective.
60
Hama Boost
Passive
Light-based attacks are 1.5 times more effective.
62
Makarakarn
36 SP
Barrier that reflects magic dmg once. (1 ally; excludes Almighty attacks)
64
Mamudoon
34 SP
Darkness: medium chance of instant kill, all foes. (40% chance)
68
Mahamaon
34 SP
Light: medium chance of instant kill, all foes. (40% chance)
70
Vorpal Blade
25% HP
Deals heavy Phys damage to all foes.
73
Megidolaon
60 SP
Deals severe Almighty damage to all foes.
75
Shield of Justice
160 SP
Shields the party from all damage once.
Max SL Winter Event
Second Awakening Stat Changes
[
]
Extra Skills
[
]
List of Bike Skills

Skill
Cost
Effect
Rank
Bufudyne
12 SP
Deals heavy Ice damage to 1 foe.
1
Ziodyne
12 SP
Deals heavy Elec damage to 1 foe.
2
Tetraja
24 SP
Nullifies instant kill attack once (1 ally).
3
Myriad Arrows
22% HP
Deals heavy Phys damage to all foes 1x to 3x.
4
Angelic Grace
Passive
Doubles evasion rate against all attacks but Light/Darkness/Almighty.
5