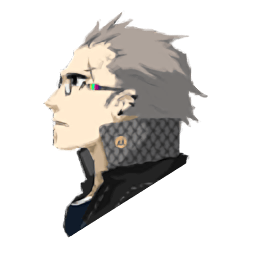 This article covers information on Kanji Tatsumi as a party member, including uses and strategies in Persona 4 and Persona 4 Golden.
Overview
[
]
Kanji joins the Investigation Team after the Steamy Bathhouse has been cleared by defeating Shadow Kanji.
Although has weaker precision, Critical rate and Magic attacks from his low Agility, Luck and Magic stats respectively, Kanji has the highest Strength and Endurance out of the entire group, allowing him to deal raw damage and take hits easily.
Despite his moveset being offense-oriented, he'll be able to buff an ally's Defense for 3 turns, and the same for the Attack of the entire party.
Kanji resists Electricity, and his weakness is Wind.
If the protagonist maxes out Kanji's Social Link, his Persona Take-Mikazuchi will evolve into Rokuten Maou, evenly boosting each of his stats by 1 and removing his Wind weakness (though not in Golden).
Persona 4 Golden

[

]
In Persona 4 Golden, if Kanji's Social Link has already been maxed out, the protagonist will be able to talk to him during Winter, getting him to evolve his Persona into Takeji Zaiten. He'll be able to absorb Electricity, and resist Physical attacks. In addition, he's able to learn "The Man's Way," giving Kanji a chancing of Downing all enemies and inflicting them with the Dizzy ailment, making them very vulnerable to attack.
Base Stats
[
]
Note: These are the base stats for Level 99.
| Inherit | Reflects | Absorbs | Block | Resists | Weak |
| --- | --- | --- | --- | --- | --- |
| - | - | - | - | Electricity | Wind |
List of Skills

Skill
Cost
Effect
Level
Mazio
10 SP
Deals light Elec damage to all foes.
Innate
Zionga
8 SP
Deals medium Elec damage to 1 foe.
Innate
Rakukaja
12 SP
Increases 1 ally's Defense for 3 turns.
Innate
Kill Rush
10% HP
Deals light Phys damage to 1 foe 1x to 3x.
Innate
Elec Boost
Passive
Strengthens Elec attacks by 25%.
27
Fatal End
14% HP
Deals medium Phys damage to 1 foe.
34
Cruel Attack
12% HP
Medium Phys dmg, 1 foe. Bonus damage to foes that are knocked down.
38
Mazionga
16 SP
Deals medium Elec damage to all foes.
40
Mighty Swing
14% HP
Deals medium Phys damage to 1 foe.
44
Elec Break
15 SP
Nullifies 1 foe's Elec resistance (for 3 turns).
48
Ziodyne
12 SP
Deals heavy Elec damage to 1 foe.
54
Vile Assault
12% HP
Deals heavy Phys damage to 1 foe. Bonus damage to foes that are knocked down.
58
Matarukaja
24 SP
Increases party's Attack for 3 turns.
60
Maziodyne
22 SP
Deals heavy Elec damage to all foes.
67
Primal Force
20% HP
Deals severe Phys damage to 1 foe.
73
Elec Amp
Passive
Strengthens Elec attacks by 50%.
75
| Inherit | Reflects | Absorbs | Block | Resists | Weak |
| --- | --- | --- | --- | --- | --- |
| - | - | - | Electricity | - | - |
List of Skills

Skill
Cost
Effect
Level
Mazio
10 SP
Deals light Elec damage to all foes.
Innate
Zionga
8 SP
Deals medium Elec damage to 1 foe.
Innate
Rakukaja
12 SP
Increases 1 ally's Defense for 3 turns.
Innate
Kill Rush
10% HP
Deals light Phys damage to 1 foe 1x to 3x.
Innate
Elec Boost
Passive
Strengthens Elec attacks by 25%.
27
Fatal End
14% HP
Deals medium Phys damage to 1 foe.
34
Cruel Attack
12% HP
Medium Phys dmg, 1 foe. Bonus damage to foes that are knocked down.
38
Mazionga
16 SP
Deals medium Elec damage to all foes.
40
Mighty Swing
14% HP
Deals medium Phys damage to 1 foe.
44
Elec Break
15 SP
Nullifies 1 foe's Elec resistance (for 3 turns).
48
Ziodyne
12 SP
Deals heavy Elec damage to 1 foe.
54
Vile Assault
12% HP
Deals heavy Phys damage to 1 foe. Bonus damage to foes that are knocked down.
58
Matarukaja
24 SP
Increases party's Attack for 3 turns.
60
Maziodyne
22 SP
Deals heavy Elec damage to all foes.
67
Primal Force
20% HP
Deals severe Phys damage to 1 foe.
73
Elec Amp
Passive
Strengthens Elec attacks by 50%.
75
| Inherit | Reflects | Absorbs | Block | Resists | Weak |
| --- | --- | --- | --- | --- | --- |
| - | - | - | - | Electricity | Wind |
List of Skills

Skill
Cost
Effect
Level
Mazio
10 SP
Deals light Elec damage to all foes.
Innate
Zionga
8 SP
Deals medium Elec damage to 1 foe.
Innate
Rakukaja
12 SP
Increases 1 ally's Defense for 3 turns.
Innate
Kill Rush
10% HP
Deals light Phys damage to 1 foe 1x to 3x.
Innate
Regenerate 1
Passive
Restores 2% of max HP each turn in battle.
Innate
Elec Boost
Passive
Strengthens Elec attacks by 25%.
27
Fatal End
14% HP
Deals medium Phys damage to 1 foe.
34
Cruel Attack
12% HP
Medium Phys dmg, 1 foe. Bonus damage to foes that are knocked down.
38
Mazionga
16 SP
Deals medium Elec damage to all foes.
40
Torrent Shot
12% HP
Deals medium Phys damage to 1 foe 2x to 3x.
44
Elec Break
15 SP
Nullifies 1 foe's Elec resistance (for 3 turns).
48
Ziodyne
12 SP
Deals heavy Elec damage to 1 foe.
54
Vile Assault
12% HP
Deals heavy Phys damage to 1 foe. Bonus damage to foes that are knocked down.
58
Matarukaja
24 SP
Increases party's Attack for 3 turns.
60
Maziodyne
22 SP
Deals heavy Elec damage to all foes.
67
Primal Force
20% HP
Deals severe Phys damage to 1 foe.
73
Elec Amp
Passive
Strengthens Elec attacks by 50%.
75
| Inherit | Reflects | Absorbs | Block | Resists | Weak |
| --- | --- | --- | --- | --- | --- |
| - | - | - | Electricity | - | Wind |
List of Skills

Skill
Cost
Effect
Level
Mazio
10 SP
Deals light Elec damage to all foes.
Innate
Zionga
8 SP
Deals medium Elec damage to 1 foe.
Innate
Rakukaja
12 SP
Increases 1 ally's Defense for 3 turns.
Innate
Kill Rush
10% HP
Deals light Phys damage to 1 foe 1x to 3x.
Innate
Regenerate 1
Passive
Restores 2% of max HP each turn in battle.
Innate
Elec Boost
Passive
Strengthens Elec attacks by 25%.
27
Fatal End
14% HP
Deals medium Phys damage to 1 foe.
34
Cruel Attack
12% HP
Medium Phys dmg, 1 foe. Bonus damage to foes that are knocked down.
38
Mazionga
16 SP
Deals medium Elec damage to all foes.
40
Torrent Shot
12% HP
Deals medium Phys damage to 1 foe 2x to 3x.
44
Elec Break
15 SP
Nullifies 1 foe's Elec resistance (for 3 turns).
48
Ziodyne
12 SP
Deals heavy Elec damage to 1 foe.
54
Vile Assault
12% HP
Deals heavy Phys damage to 1 foe. Bonus damage to foes that are knocked down.
58
Matarukaja
24 SP
Increases party's Attack for 3 turns.
60
Maziodyne
22 SP
Deals heavy Elec damage to all foes.
67
Primal Force
20% HP
Deals severe Phys damage to 1 foe.
73
Elec Amp
Passive
Strengthens Elec attacks by 50%.
75
| Inherit | Reflects | Absorbs | Block | Resists | Weak |
| --- | --- | --- | --- | --- | --- |
| N/A | - | Elec | - | Physical | Wind |
List of Skills

Skill
Cost
Effect
Level
Mazio
10 SP
Deals light Elec damage to all foes.
Innate
Zionga
8 SP
Deals medium Elec damage to 1 foe.
Innate
Rakukaja
12 SP
Increases 1 ally's Defense for 3 turns.
Innate
Kill Rush
10% HP
Deals light Phys damage to 1 foe 1x to 3x.
Innate
Regenerate 1
Passive
Restores 2% of max HP each turn in battle.
Innate
Elec Boost
Passive
Strengthens Elec attacks by 25%.
27
Fatal End
14% HP
Deals medium Phys damage to 1 foe.
34
Cruel Attack
12% HP
Medium Phys dmg, 1 foe. Bonus damage to foes that are knocked down.
38
Mazionga
16 SP
Deals medium Elec damage to all foes.
40
Torrent Shot
12% HP
Deals medium Phys damage to 1 foe 2x to 3x.
44
Elec Break
15 SP
Nullifies 1 foe's Elec resistance (for 3 turns).
48
Ziodyne
12 SP
Deals heavy Elec damage to 1 foe.
54
Vile Assault
12% HP
Deals heavy Phys damage to 1 foe. Bonus damage to foes that are knocked down.
58
Matarukaja
24 SP
Increases party's Attack for 3 turns.
60
Maziodyne
22 SP
Deals heavy Elec damage to all foes.
67
Primal Force
20% HP
Deals severe Phys damage to 1 foe.
73
Elec Amp
Passive
Strengthens Elec attacks by 50%.
75
The Man's Way
30 SP
Chance of causing down and dizzy. All foes.
Max SL Winter
Second Awakening Stat Changes
[
]
Extra Skills
[
]
List of Social Link Skills

Skill
Cost
Effect
Rank
Dizzy Boost
Passive
Increases chances of inflicting Dizzy during a knockdown.
2
Masukunda
24 SP
Decreases all foes' Hit/Evasion rate for 3 turns.
4
Power Charge
15 SP
Next physical attack will be 250% greater in power.
6
Regenerate 3
Passive
Restores 6% of max HP each turn in battle.
8
Evade Wind
Passive
Triples evasion rate against Wind attacks.
10
List of Bike Skills

Skill
Cost
Effect
Rank
Media
7 SP
Slightly restores party's HP.
1
Atom Smasher
16% HP
Deals medium Phys damage to all foes 1x to 2x with a chance of Fear.
2
Blue Wall
18 SP
Add Elec resistance to 1 ally (for 3 turns).
3
Fast Heal
Passive
Halves the time needed to recover from ailments.
4
Mediarama
12 SP
Moderately restores party's HP.
5