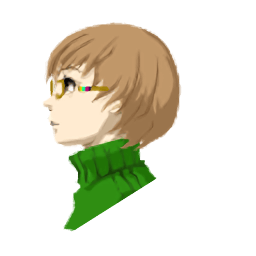 This article covers information on Chie Satonaka as a party member, uses and strategies in Persona 4.
Overview
[
]
Chie joins the party after Shadow Chie has been defeated in the early floors of Yukiko's Castle.
Although more fragile than other party members, Chie has moderately high Offense, wielding physical attacks to back it up. Her offense can further be sharpened in accuracy from her Agility stat, and can land Critical Hits more often with her higher Luck.
Although Chie doesn't learn many support skills, early on she's able to learn Tarukaja, temporarily boosting 1 ally's attack, whether it's someone else's or her own.
Chie is strong against Ice, and is weak against Fire.
If the protagonist maxes out Chie's Social Link, her Persona Tomoe will evolve into Suzuka Gongen. This will nullify her weakness to Fire, and will let her block Ice. Additionally, her Agility will be mildly buffed.
Persona 4 Golden

[

]
In Persona 4 Golden, if Chie's Social Link has been maxed out, during Winter, it's possible to talk to Chie and evolve her Persona to Haraedo-no-Okami. This will make her able to absorb Ice attacks, and will also learn to block Light. However, her weakness against Fire returns, even with Suzuka Gongen in this version.
Chie will be able to learn Dragon Hustle, which buffs the Attack, Defense, and Hit/Evasion of all allies for 3 turns.
Base Stats
[
]
Note: These are the base stats for Level 99.
| Inherit | Reflects | Absorbs | Block | Resists | Weak |
| --- | --- | --- | --- | --- | --- |
| N/A | - | - | - | Ice | Fire |
List of Skills

Skill
Cost
Effect
Level
Skewer
5% HP
Deals light Phys damage to 1 foe.
Innate
Tarukaja
12 SP
Increases 1 ally's Attack for 3 turns.
Innate
Bufu
4 SP
Deals light Ice damage to 1 foe.
7
Skull Cracker
9% HP
Deals light Phys damage to 1 foe with a chance of Confusion.
11
Mabufu
10 SP
Deals light Ice damage to all foes.
14
Rampage
12% HP
Deals light Phys damage to all foes 1x to 3x.
20
Assault Dive
9% HP
Deals light Phys damage to 1 foe.
22
Counter
Passive
10% chance of reflecting Phys attacks.
24
Gale Slash
12% HP
Deals light Phys damage to all foes.
29
Bufula
8 SP
Deals medium Ice damage to 1 foe.
33
Ice Boost
Passive
Strengthens Ice attacks by 25%.
36
Black Spot
16% HP
Deals medium Phys damage to 1 foe.
38
Counterstrike
Passive
15% chance of reflecting Phys attacks.
43
Heat Wave
16% HP
Deals medium Phys damage to all foes.
46
Power Charge
15 SP
Next physical attack will be 250% greater in power.
52
High Counter
Passive
20% chance of reflecting Phys attacks.
61
Rainy Death
20% HP
Deals heavy Phys damage to 1 foe. Increased Critical rate in rainy or snowy weather.
67
God's Hand
22% HP
Deals severe Phys damage to 1 foe.
70
Agneyastra
24% HP
Deals heavy Phys damage to all foes 1x to 3x.
74
| Inherit | Reflects | Absorbs | Block | Resists | Weak |
| --- | --- | --- | --- | --- | --- |
| - | - | - | Ice | - | - |
List of Skills

Skill
Cost
Effect
Level
Skewer
5% HP
Deals light Phys damage to 1 foe.
Innate
Tarukaja
12 SP
Increases 1 ally's Attack for 3 turns.
Innate
Bufu
4 SP
Deals light Ice damage to 1 foe.
7
Skull Cracker
9% HP
Deals light Phys damage to 1 foe with a chance of Confusion.
11
Mabufu
10 SP
Deals light Ice damage to all foes.
14
Rampage
12% HP
Deals light Phys damage to all foes 1x to 3x.
20
Assault Dive
9% HP
Deals light Phys damage to 1 foe.
22
Counter
Passive
10% chance of reflecting Phys attacks.
24
Gale Slash
12% HP
Deals light Phys damage to all foes.
29
Bufula
8 SP
Deals medium Ice damage to 1 foe.
33
Ice Boost
Passive
Strengthens Ice attacks by 25%.
36
Black Spot
16% HP
Deals medium Phys damage to 1 foe.
38
Counterstrike
Passive
15% chance of reflecting Phys attacks.
43
Heat Wave
16% HP
Deals medium Phys damage to all foes.
46
Power Charge
15 SP
Next physical attack will be 250% greater in power.
52
High Counter
Passive
20% chance of reflecting Phys attacks.
61
Rainy Death
20% HP
Deals heavy Phys damage to 1 foe. Increased Critical rate in rainy or snowy weather.
67
God's Hand
22% HP
Deals severe Phys damage to 1 foe.
70
Agneyastra
24% HP
Deals heavy Phys damage to all foes 1x to 3x.
74
| Inherit | Reflects | Absorbs | Block | Resists | Weak |
| --- | --- | --- | --- | --- | --- |
| N/A | - | - | - | Ice | Fire |
List of Skills

Skill
Cost
Effect
Level
Skewer
5% HP
Deals light Phys damage to 1 foe.
Innate
Tarukaja
12 SP
Increases 1 ally's Attack for 3 turns.
Innate
Bufu
4 SP
Deals light Ice damage to 1 foe.
6
Skull Cracker
9% HP
Deals light Phys damage to 1 foe with a chance of Confusion.
11
Mabufu
10 SP
Deals light Ice damage to all foes.
14
Rampage
12% HP
Deals light Phys damage to all foes 1x to 3x.
20
Assault Dive
9% HP
Deals light Phys damage to 1 foe.
22
Counter
Passive
10% chance of reflecting Phys attacks.
24
Gale Slash
12% HP
Deals light Phys damage to all foes.
29
Apt Pupil
Passive
Increases user's Critical Rate.
33
Auto-Tarukaja
Passive
Automatic Tarukaja at the start of battle.
36
Black Spot
16% HP
Deals medium Phys damage to 1 foe.
38
Counterstrike
Passive
15% chance of reflecting Phys attacks.
43
Heat Wave
16% HP
Deals medium Phys damage to all foes.
46
Power Charge
15 SP
Next physical attack will be 250% greater in power.
52
High Counter
Passive
20% chance of reflecting Phys attacks.
61
Rainy Death
20% HP
Deals heavy Phys damage to 1 foe. Increased Critical rate in rainy or snowy weather.
67
God's Hand
22% HP
Deals severe Phys damage to 1 foe.
70
Agneyastra
24% HP
Deals heavy Phys damage to all foes 1x to 3x.
74
| Inherit | Reflects | Absorbs | Block | Resists | Weak |
| --- | --- | --- | --- | --- | --- |
| N/A | - | - | Ice | Light | Fire |
List of Skills

Skill
Cost
Effect
Level
Skewer
5% HP
Deals light Phys damage to 1 foe.
Innate
Tarukaja
12 SP
Increases 1 ally's Attack for 3 turns.
Innate
Bufu
4 SP
Deals light Ice damage to 1 foe.
6
Skull Cracker
9% HP
Deals light Phys damage to 1 foe with a chance of Confusion.
11
Mabufu
10 SP
Deals light Ice damage to all foes.
14
Rampage
12% HP
Deals light Phys damage to all foes 1x to 3x.
20
Assault Dive
9% HP
Deals light Phys damage to 1 foe.
22
Counter
Passive
10% chance of reflecting Phys attacks.
24
Gale Slash
12% HP
Deals light Phys damage to all foes.
29
Apt Pupil
Passive
Increases user's Critical Rate.
33
Auto-Tarukaja
Passive
Automatic Tarukaja at the start of battle.
36
Black Spot
16% HP
Deals medium Phys damage to 1 foe.
38
Counterstrike
Passive
15% chance of reflecting Phys attacks.
43
Heat Wave
16% HP
Deals medium Phys damage to all foes.
46
Power Charge
15 SP
Next physical attack will be 250% greater in power.
52
High Counter
Passive
20% chance of reflecting Phys attacks.
61
Rainy Death
20% HP
Deals heavy Phys damage to 1 foe. Increased Critical rate in rainy or snowy weather.
67
God's Hand
22% HP
Deals severe Phys damage to 1 foe.
70
Agneyastra
24% HP
Deals heavy Phys damage to all foes 1x to 3x.
74
| Inherit | Reflects | Absorbs | Block | Resists | Weak |
| --- | --- | --- | --- | --- | --- |
| N/A | - | Ice | Light | - | Fire |
List of Skills

Skill
Cost
Effect
Level
Skewer
5% HP
Deals light Phys damage to 1 foe.
Innate
Tarukaja
12 SP
Increases 1 ally's Attack for 3 turns.
Innate
Bufu
4 SP
Deals light Ice damage to 1 foe.
6
Skull Cracker
9% HP
Deals light Phys damage to 1 foe with a chance of Confusion.
11
Mabufu
10 SP
Deals light Ice damage to all foes.
14
Rampage
12% HP
Deals light Phys damage to all foes 1x to 3x.
20
Assault Dive
9% HP
Deals light Phys damage to 1 foe.
22
Counter
Passive
10% chance of reflecting Phys attacks.
24
Gale Slash
12% HP
Deals light Phys damage to all foes.
29
Apt Pupil
Passive
Increases user's Critical Rate.
33
Auto-Tarukaja
Passive
Automatic Tarukaja at the start of battle.
36
Black Spot
16% HP
Deals medium Phys damage to 1 foe.
38
Counterstrike
Passive
15% chance of reflecting Phys attacks.
43
Heat Wave
16% HP
Deals medium Phys damage to all foes.
46
Power Charge
15 SP
Next physical attack will be 250% greater in power.
52
High Counter
Passive
20% chance of reflecting Phys attacks.
61
Rainy Death
20% HP
Deals heavy Phys damage to 1 foe. Increased Critical rate in rainy or snowy weather.
67
God's Hand
22% HP
Deals severe Phys damage to 1 foe.
70
Agneyastra
24% HP
Deals heavy Phys damage to all foes 1x to 3x.
74
Dragon Hustle
150 SP
Increases all allies' Attack, Defense
and Hit/Evasion rate for 3 turns.
Max SL Winter
Second Awakening Stat Changes
[
]
Extra Skills
[
]
List of Bike Skills

Skill
Cost
Effect
Rank
Hama
8 SP
Light: low chance of instant kill, 1 foe. (40% chance)
1
Mind Slice
14% HP
Deals medium Phys damage to all foes with a chance of Confusion.
2
Hamaon
15 SP
Light: medium chance of instant kill, 1 foe. (60% chance)
3
Tetra Break
18 SP
Negates all foes' Tetrakarn.
4
Bufudyne
12 SP
Deals heavy Ice damage to 1 foe.
5