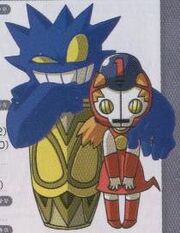 Pandora (パンドラ*)? is a demon in the series.
Also known as Anesidora she is the first human woman of Greek mythology, being born from clay. The gods gave her a husband and several gifts, including a jar (or a box in modern interpretations) which she was warned not to open. Tempted, she opened the jar, which unleashed all of the evils of mankind. Only hope remained in the jar after she closed it.
Appearances
Edit
Megami Ibunroku PersonaEdit
Pandora is Maki Sonomura's ultimate expression of nihilism. After the death of Takahisa Kandori, Aki awakened Pandora only to have Pandora devour her, destroying her half of the other Mikage-cho in the process. Pandora then proceeded to steal the core of the DEVA System from the real world. After the protagonist and the "Ideal Maki" come in contact with the soul of the "real" Maki in the Sea of Souls and receive her compact, the party is able to enter the Avidya World and confront Pandora, who plans to use the DEVA System core in a bid for destruction of all reality. After she is defeated, she questions how the party could be so powerful, and is reminded that they are fighting together as friends and that she isn't alone. Her and the Ideal Maki then merge, and one by one the party members are sent back to the real world.
She manifests as a monstrous, multi-limbed lump of flesh with Maki's head poking out of the main body, although after this form is defeated it is revealed to be a cocoon for her true form, which appears as a giant version of Maki with butterfly wings and antennae.
She is also one of the few demons weak to Amon-Ra's (the protagonist's ultimate Persona) signature attack, Hieroglyphein. This could symbolize the protagonist and Maki's friendship overcoming her nihilism.
Pandora is a member of the Tyrant Order in Megami Ibunroku Persona, but her Order was changed to Deity in both the Japanese and English versions of Shin Megami Tensei: Persona.
DemiKids Light/Dark VersionEdit
Pandora is a demon hidden near the Valhalla entrance to the Time Tower and can be recruited using a password. She has the power Fog, which makes dodging attacks easier.
Megami Ibunroku PersonaEdit
MAtk
MDef

| | | |
| --- | --- | --- |
| Strength | 55 | |
| Vitality | 68 | |
| Dexterity | 59 | |
| Agility | 48 | |
| Luck | 52 | |

160
197
1h
2h
Sp
Ax
Wp
Th
Ar
Fs
HG
MG
SG
Ri
Te
Ru
-
-
-
1.25×
-
-
-
-
1.5×
1.5×
1.5×
1.5×
-
-
Fi
Ic
Wi
Er
El
Nc
Bl
Gr
Ex
Mi
De
Cu
Nr
???
-

2

/

4
-
-
-
-
-
-
Nu
-
Nu
-

2

/

4
2.5×
List of Skills

Skill
Effect
Bufudyne
Heavy Ice damage+Freeze (area)
Petrama
Inflicts Stone status (1 foe)
Tarukaja
Raises Attack (all allies)
Rakukaja
Raises Defense (all allies)
Evil Smile
Lowers LV + Paralyze (1 human foe)
Paralyze Puncture
Heavy non-elemental damage + Paralyze (all foes)
| Order | Type | Subtype | Level | HP | SP |
| --- | --- | --- | --- | --- | --- |
| Tyrant / Deity | Normal | Normal | 99 | 15000 (Shared) | 9999 |

MAtk
MDef

| | | |
| --- | --- | --- |
| Strength | 60 | |
| Vitality | 99 | |
| Dexterity | 71 | |
| Agility | 52 | |
| Luck | 42 | |

223
170
1h
2h
Sp
Ax
Wp
Th
Ar
Fs
HG
MG
SG
Ri
Te
Ru
1.5×
1.5×
1.5×
1.5×
1.5×
1.5×
1.5×
1.5×
-
-
-
-
1.5×
1.5×
Fi
Ic
Wi
Er
El
Nc
Bl
Gr
Ex
Mi
De
Cu
Nr
???
Dr

1.5×

Rf
Dr
Dr
Dr
Dr
Dr
Dr
Nu
1.5×
Nu

2

/

4
-
2.5×
List of Skills

Skill
Effect
Mabufudyne
Heavy Ice damage+Freeze (all foes)
Marin Karin
Inflicts Charm status (area)
Decover
No HP recovery for 3 turns (1 foe)
Desanga
No Persona change for 3 turns (1 foe)
Wing Flap
Light Rush damage (1 foe)
Butterfly Storm
Heavy non-elemental damage + random ailments (all foes)
| Order | Type | Subtype | Level | HP | SP |
| --- | --- | --- | --- | --- | --- |
| Tyrant / Deity | Normal | Normal | 99 | 15000 (Shared) | 9999 |

MAtk
MDef

| | | |
| --- | --- | --- |
| Strength | 99 | |
| Vitality | 60 | |
| Dexterity | 71 | |
| Agility | 52 | |
| Luck | 42 | |

166
200
1h
2h
Sp
Ax
Wp
Th
Ar
Fs
HG
MG
SG
Ri
Te
Ru

2

/

4

2

/

4

2

/

4

2

/

4

2

/

4

2

/

4

2

/

4

2

/

4

1

/

4

1

/

4

1

/

4

1

/

4

3

/

4

3

/

4
Fi
Ic
Wi
Er
El
Nc
Bl
Gr
Ex
Mi
De
Cu
Nr
???
1.5×

2

/

4

2

/

4
1.5×
1.5×
1.5×

2

/

4
1.5×
Nu
1.5×
Nu
1.5×
Nu
2.5×
List of Skills

Skill
Effect
Tarunda
Lowers Attack (all foes)
Rakukaja
Raises Defense (all allies)
Dekaja
Removes stat bonuses (all foes)
Mediarama
Restores moderate HP (all allies)
Symphony of Lament
Inflicts Guilt status (all foes)
All Guard
Nullfies all attacks for one turn (self)
DemiKids Light/Dark VersionEdit
| Class | Element | Type | Level | HP | MP | Exp |
| --- | --- | --- | --- | --- | --- | --- |
| King | Dark | Ghost | 22 | 234 | 122 | 207 |

| ATK | DEF | MGC | RES | SPD | LCK |
| --- | --- | --- | --- | --- | --- |
| 22 | 20 | 24 | 21 | 19 | 20 |
List of Skills

Skill
Element
Cost
Effect
Hex Comadeus
Dark
20 MP
Medium dmg +Faint. 2 Foes
Mjolnir
Thunder
32 HP
Medium dmg +Shock. 1 Foe
Heart Wrench
Dark
10 HP
Tempt. Random Foe
Reflect
Dark
25 HP
Reflect Power Damage
Wild Blows
Dark
15 HP
Hit x3. 1 Foe
Countdown
Dark
28 HP
Stat Up +Paralyze. 1 Foe
Devil Children Fire/Ice BookEdit
| Class | Type | Race | Level | HP | MP | Exp |
| --- | --- | --- | --- | --- | --- | --- |
| King | Dark | Ghost | 22 | 234 | 122 | 207 |

| Attack | Guard | Magic | M Guard | Speed | Luck |
| --- | --- | --- | --- | --- | --- |
| 22 | 20 | 24 | 21 | 19 | 20 |
List of Skills

Mudoon
Thor's Hammer
Marvelous Dance
Tetrakarn
Disordered Beating
Countdown
Pandora's 1st form in Megami Ibunroku Persona
Pandora's 2nd form in Megami Ibunroku Persona
Pandora's 1st form in the Megami Ibunroku Persona manga
Pandora's 2nd form in the Megami Ibunroku Persona manga