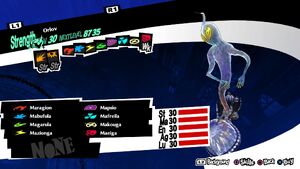 Orlov (オルロフ, Orurofu)? is a demon in Persona 5.
Appearances
Edit
The Orlov is an Indian diamond which has never been officially weighed but estimated to be around 190 carats. It sets in the sceptre named after the Russian Count Grigory Grigorievich Orlov by Empress Catherine the Great.
Persona 5Edit
"A diamond stolen from a Hindu temple that is said to drive its owner to their death. It was cut into smaller pieces in an attempt to break the curse."
—Persona 5 Compendium
Orlov is encountered in Niijima's Palace and Mementos' Path of Sheriruth floors 1 to 5, 7 to 9 and 11 to 13. After clearing Shido's Palace, it can be encountered in Path of Sheriruth floors 1 to 5 only. The most effective way to capture this Shadow is by Downing it using Physical attacks with High critical rate, such as Lucky Punch or Miracle Punch.
Persona 5Edit
Arcana

Level
HP
SP

Type

| | | |
| --- | --- | --- |
| Strength | 30 | |
| Magic | 30 | |
| Endurance | 27 | |
| Agility | 32 | |
| Luck | 30 | |

Strength
30
700
210
Upbeat
| Phys | Gun | Fire | Ice | Elec | Wind | Psy | Nucl | Bless | Curse | Almi |
| --- | --- | --- | --- | --- | --- | --- | --- | --- | --- | --- |
| Resist | Block | Block | Block | - | Block | Block | Block | Block | Block | 20 |
Arcana

Level

| | | |
| --- | --- | --- |
| Strength | 30 | |
| Magic | 30 | |
| Endurance | 30 | |
| Agility | 30 | |
| Luck | 30 | |

Strength
30
| Inherit | Reflects | Absorbs | Block | Resists | Weak |
| --- | --- | --- | --- | --- | --- |
| - | - | - | Gun, Fire, Ice, Wind, Psy, Nuclear, Bless, Curse | Phys | - |
List of Skills

Skill
Cost
Effect
Level
Maragion

16 SP

Medium Fire damage to all foes. Rare chance of Burn.
Innate
Mabufula

16 SP

Medium Ice damage to all foes. Rare chance of Freeze.
Innate
Mazionga

16 SP

Medium Electric damage to all foes. Rare chance of Shock.
Innate
Magarula

14 SP

Medium Wind damage to all foes. Technical dmg: Burn.
Innate
Mapsio

16 SP

Medium Psy damage to all foes. Technical dmg: Mental ailment.
Innate
Mafreila

16 SP

Medium Nuclear damage to all foes. Technical dmg: Burn/Freeze/Shock.
Innate
Makouga

16 SP

Medium Bless damage to all foes.
Innate
Maeiga

16 SP

Medium Curse damage to all foes.
Innate