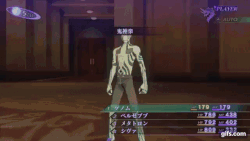 Oni-Kagura (鬼神楽, Onikagura)? is a Physical skill.
Effect
Shin Megami Tensei III: Nocturne
Bend back and breathe deeply, creating a cocoon-shaped mass composed of Purple awns in front of Face and spraying at Enemy Pary. Although Skill consumes 30% HP and balances power and cost, it tends to be shunned due to its high learning level despite its lack of distinctive features.
Persona 5 / Royal
Oni-Kagura inflicts medium physical damage to all foes. It also has a low chance of inflicting the Rage ailment.
Skillset
Magatama
Demons
Shin Megami Tensei IV
Shin Megami Tensei IV Apocalypse
Persona 5 / Royal
By leveling up
With Skill Cards
The protagonist can use a Skill Card to teach Oni-Kagura to his Personas. It can only be obtained through certain means:
Enemies
Encounters
Persona 5 / Royal
Gallery
Etymology
Kagura (神楽) is a type of Shinto ceremonial dances for purification. Kagura is mainly divided into Mikagura (御神楽) and Satokagura (里神楽) performed in the royal court and Kanto locals respectively. Onikagura is an Atlus invention to mean "demonic ritual dance."