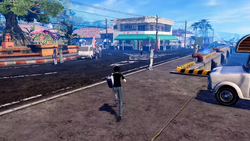 Okinawa (沖縄, Okinawa)? is a location in Persona 5 Strikers.
History
Okinawa Prefecture (沖縄県, Okinawa-ken)? is the southernmost prefecture of Japan. It encompasses two thirds of the Ryukyu Islands in a chain over 1,000 kilometers (620 mi) long. Naha, Okinawa's capital, is located in the southern part of Okinawa Island.
The Battle of Okinawa event, codenamed Operation Iceberg by US Marines (Okinawan Language: 沖縄戦 romanized: Uchinaa ikusa), which took place in Okinawa from April 1 to June 22 in 1945, was one of the major battle events in the Pacific Ocean during World War II involving the US Army and the allied forces against the Japanese military.
One iconic aspect of Okinawa is Shisa, a traditional Ryukyuan cultural artifact. It resembles a cross between a lion and a dog. The statuary is used for its ability to protect from some evils.
Appearances
Profile
Persona 5 Strikers
Okinawa is one of the locations the Phantom Thieves travel to during their summer vacation.
It contains an AI/psientific laboratory with the Okinawa Jail overlaid on top of it. Its Monarch, Shuzo Ubukata helped study the EMMA application for Akira Konoe and used himself as a test subject, causing its denizens to become insane. When Konoe told him to hand over his Desires (in order to replicate a Calling Card), Ubukata committed suicide by jumping off a cliff. Having the improvised application in his hands, Konoe began to spread EMMA all over Japan.
Trivia
Traditionally, Okinawans followed Ryukyuan religious beliefs, generally characterized by ancestor worship and respecting of the relationship between the dead, the living, the spirits and the gods. This ties to how the state was chosen as the start point for "Operation Oraculi" (summoning an artificial god) by Akira Konoe, sacrificing its Monarch and its remnants remaining insane as a result of their Desires not being returned upon the Monarch's death.
Gallery