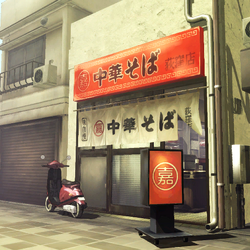 Ogikubo (荻窪*)? is a location in Persona 5.
Ogikubo, Tokyo is based on the real location in Tokyo, Japan. It is also known as 'Ramen Town' for its several ramen restaurants.
Ogikubo is where a ramen restaurant is located as one of Tokyo's hangout spots. It is unlocked when the Chariot Confidant reaches rank 4. Ryuji Sakamoto explains to the protagonist how the members of Shujin Academy's track team used to eat there together. This location can be visited in order to increase Confidant rank points. Confidants that can be brought here are Ryuji Sakamoto, Yusuke Kitagawa, Makoto Niijima, and Haru Okumura.
In the anime adaptation of the game, Ryuji took Ren into the ramen restaurant for the first time after they had revealed Yamauchi's true nature to the track team and gets the Ramen Bowl as a gift from during that same visit.
Before leaving from Tokyo, Ryuji invites the protagonist, Morgana and Ann to eat a bowl of ramen at Ogikubo.

Community content is available under
CC-BY-SA
unless otherwise noted.