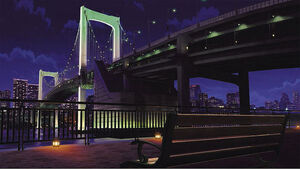 Odaiba Seaside Park (お台場海浜公園, Odaiba-kaihinkōen)?, known simply as Seaside Park in the English version, is a location in the series.
Odaiba is a real-life location located in Minato, Tokyo, and served by the Odaiba-kaihinkōen Station. Odaiba is known as a popular tourist attraction, thanks to the development of places such as Palette Town, Tokyo Big Sight and Fuji Television Studios. The Odaiba Seaside Park is one of the urban beaches found in Odaiba with a view of the Rainbow Bridge crossing in and out into Tokyo.
Appearances
Edit
Persona 5Edit
Odaiba Seaside Park one of the hangout spots in the Tokyo map. It is unlocked after reading Nightlife Hotspots, a magazine bought in Shibuya's Taiheido bookstore, or if the player maxes out Ann Takamaki's Confidant. The location is also visited during Munehisa Iwai's Confidant at rank 9, and in Chihaya Mifune's final Confidant event when the protagonist romances her.
Once unlocked, the protagonist may visit this location at night to increase Confidant rank points with his girlfriend.
Shin Megami Tensei: Liberation Dx2Edit
Odaiba is the site for Chapter 7, since the Acolytes' ship that houses Vanitas is located there. Depending on the scenario, the protagonist's objective is either to stop Vanitas from passing judgement on the world, or to let it run its course based on the visions of Jabo Kakuryuu.
Community content is available under
CC-BY-SA
unless otherwise noted.