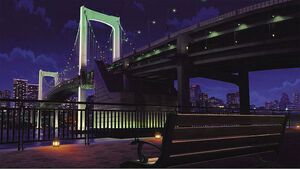 Odaiba Seaside Park (お台場海浜公園, Odaiba-kaihinkōen)?, known simply as Seaside Park in the English version, is a location in the series.
History
Odaiba (お台場*)? is a real-life location located in Minato, Tokyo, and served by the Odaiba-kaihinkōen Station. Odaiba is known as a popular tourist attraction, thanks to the development of places such as Palette Town, Tokyo Big Sight and Fuji Television Studios. The Odaiba Seaside Park is one of the urban beaches found in Odaiba with a view of the Rainbow Bridge crossing in and out into Tokyo.
Appearances
Profile
Persona 5
Odaiba Seaside Park one of the hangout spots in the Tokyo map. It is unlocked after reading Nightlife Hotspots, a magazine bought in Shibuya's Taiheido bookstore, or if the protagonist maxes out Ann Takamaki's Confidant. The location is also visited during Munehisa Iwai's Confidant at rank 9, and in Chihaya Mifune's final Confidant event if she and the protagonist were to enter a romantic relationship.
Once unlocked, the protagonist may visit this location at night to increase Confidant rank points with his girlfriend.
Persona 5 Royal
The stadium construction site at Odaiba acts as a major plot location during the game's additional story. It is first visited by Kasumi Yoshizawa after the protagonist has visited the fair with Yusuke Kitagawa and Ryuji Sakamoto. According to Kasumi, she would visit this place when she was depressed in order to motivate herself.
Kasumi visits it again after her scholarship and honor status were threatened with revocation for being 3rd runner up during a gymnastics competition. She asks the protagonist to come there, where Kasumi accidentally activates the Metaverse Navigator on both herself and the nearby protagonist and Morgana, dragging the three of them into an unknown palace resembling a brilliant tower of glass and gold.
After New Year's Day, Kasumi notices the Palace in the real world, and after an investigation, it is discovered that the unknown palace actually belongs to Takuto Maruki. Years ago, Maruki attempted to raise funds for a research lab on the area, only for his efforts to be throttled by Masayoshi Shido under the pretense of not having any "concrete evidence," and thus his funds were cut off. A stadium has been under construction instead afterwards. When Maruki's distortions blossomed, his Palace formed on that spot in the Metaverse, becoming his "research lab."
During the protagonist's departure, he can also go there to bid Mika farewell.
Shin Megami Tensei: Liberation Dx2
Odaiba is the site for Chapter 7, since the Acolytes' ship that houses Vanitas is located there. Depending on the scenario, the protagonist's objective is either to stop Vanitas from passing judgement on the world, or to let it run its course based on the visions of Jabo Kakuryuu.