(Adding categories)

Line 29:
Line 29:
 

Image:Nakano2.jpg|The Obelisk in Nakano, which created a forest

 

Image:Nakano2.jpg|The Obelisk in Nakano, which created a forest

 

Image:Ichigaya2.jpg|The Obelisk in Ichigaya, which created a lava-strewn wasteland</gallery>

 

Image:Ichigaya2.jpg|The Obelisk in Ichigaya, which created a lava-strewn wasteland</gallery>

 
+

[[Category:Shin Megami Tensei IMAGINE]]
---
Revision as of 03:43, 27 March 2009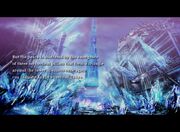 An Obelisk is a recurring symbol within the Shin Megami Tensei games, commonly of unknown origin.
Appearances
Biography
Shin Megami Tensei III: Nocturne
The only Obelisk seen in the Vortex World is located near the Manikin city of Asakusa, and later becomes the Tower of Kagutsuchi.
Shin Megami Tensei IMAGINE
The three Obelisks appeared after the construction of Shinjuku Babel, and vastly altered the appearance of the regions they appeared in. They are located in Nakano, Ichigaya, and Shibuya.
Gallery