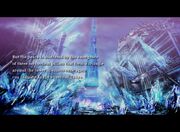 An Obelisk is a recurring symbol within the Shin Megami Tensei games, commonly of unknown origin.
Appearances
Biography
Shin Megami Tensei III: Nocturne
The only Obelisk seen in the Vortex World is located near the second entrance of the Assembly of Nihilo, and later it gets driven into the ground by the Tower of Kagutsuchi.
Shin Megami Tensei IMAGINE
The three Obelisks appeared after the construction of Shinjuku Babel, and vastly altered the appearance of the regions they appeared in. They are located in Nakano, Ichigaya, and Shibuya.
History
An obelisk is a tall, narrow, four-sided, tapering monument which ends in a pyramid-like shape at the top. Ancient obelisks were often monolithic whereas most modern obelisks are made of individual stones, and can even have interior spaces. The term stele is generally used for other monumental standing inscribed sculpted stones.
Because of the Enlightenment-era association of Egypt with mortuary arts, (and generally with great antiquity), obelisks became associated with timelessness. There are many smaller obelisks or similar forms to be found in European and American cemeteries.
Gallery