Raise a Floppa - The Loop
Play Sound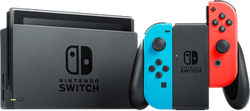 The Nintendo Switch is a hybrid video game console developed by Nintendo and released worldwide on March 3, 2017. It is designed primarily as a home console, with the main unit inserted onto a docking station to connect to a television. Alternatively, it can be removed from the dock and played as a handheld device, or placed in a standalone tabletop mode playable by several people. Additionally, it has an LCD touchscreen, which allows it to be used similarly to a tablet computer.
It is possible to switch between each mode through the use of wireless Joy-Con controllers, which can be connected to the sides of the main unit to support handheld mode, or on a grip accessory which allows the joycons to be used in the form of a traditional gamepad. Additionally, the joycons can also be used individually, supporting local multiplayer.
On September 20, 2019, a handheld-only variation of the console, Nintendo Switch Lite, has been released. A revised high-end OLED model of the original Nintendo Switch, was stocked on October 8, 2021.
On January 12, 2017, Atlus announced two new Shin Megami Tensei projects for the Nintendo Switch and Nintendo 3DS coming soon.[1]
On April 26, 2019, a trailer for a new Persona game, Persona 5 Strikers, was shown during the "Persona Super Live: P-Sound Street 2019: Welcome to No. Q Theater" event. It was announced that the game would be coming out for both the PlayStation 4, and for the Nintendo Switch. Making it the first Persona game on not only a Nintendo console as apposed to a handheld, but also the first Persona game to release on the Nintendo Switch.
On March 26, 2020, during an installment of Nintendo Direct, Nintendo and Atlus jointly announced that they would be bringing Catherine: Full Body, the enhanced remaster of the original 2011 game previously released on PlayStation 4 and PlayStation Vita, to the Nintendo Switch. This version of the game was launched in Japan on July 2, 2020, with a North American and European release date later on July 7, 2020. [2]
Titles
Gallery
Nintendo Switch
Accessories
External Links
References