Raise a Floppa - The Loop
Play Sound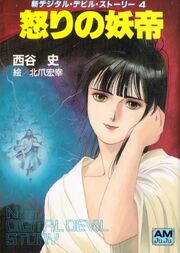 New Digital Devil Story 4: Wrath of the Young Emperor (新デジタル・デビル・ストーリー4 怒りの妖帝, Shin Dejitaru Debiru Sutōrī 4: Ikari no Yōtei)? is the fourth book in a hexalogy of novels written by Aya Nishitani and illustrated by Hiroyuki Kitazume.
Info
Original release: April 30, 1992
Published by Tokuma Shoten
Characters
Asuka Kita: Protagonist, who finally gets rid of Nari's possession.

Reiko Kido

: She unites with Cerberus to find Asuka.
Akemi Nakajima: In a form of a spirit saves Asuka from words of demons.

Emperor Sutoku

: Reincarnated 75th Emperor of Japan.

Father Costa

: Leader of the Crusaders.
Yumiko Shirasagi: Tricked reincarnation of Izanami.
Cerberus: He helps Reiko to find Asuka.
Jormungandr: Leader of Giants.

Kisanadu

: Horse of Beelzebub.
Lucifer: Antagonist of the story.
Beelzebub: Subordinate of Lucifer.
Hel: Sister of Jormungandr.

Uzu

: Priest of Yamato.
Sarutahiko: Defender of fountain.

Sunori

: Priest of Yamato.

Simon Kelvin

: Photographer who now is in Japan.

Professor Feed

: The one who called Simon to Japan.

John Quark

: Vice President of the United States of America.
Gabriel: Archangel, who helps president.

Eri Hara

: Second year of Jusei High School, friend of Asuka.

Kengo Nomura

: Second year of Jusei High School, friend of Asuka.

Narukawa (NDDS)

: Crusaders member.
Lilith: Lucifer's Wife.

Fujiwara no Yorinaga

: Fujiwara statesman, who got reincarnated.

Minamoto no Yoshinaka

: General of the late Heian period, who got reincarnated.
Sujata: Mother Goddess, who sides with Lucifer.
Chapter List
Chapter 1: Youkai Revives
Chapter 2: At the End of Reincarnation
Chapter 3: Humanity Counterattack
Chapter 4: Overture of the Collapse
Gallery
External Links