World of Warcraft: Dragonflight - The Loop
Play Sound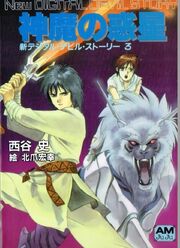 New Digital Devil Story 3: Planet of the Devil (新デジタル・デビル・ストーリー3 神魔の惑星, Shin Dejitaru Debiru Sutōrī 3: Jinma no Wakusei)? is the third book in a hexalogy of novels written by Aya Nishitani and illustrated by Hiroyuki Kitazume.
Info
Original release: August 31, 1991
Published by Tokuma Shoten
Characters
Asuka Kita: Protagonist.

Reiko Kido

: Friend of Asuka, she was abducted.

Kirara

: Ally, who helps Asuka and Reiko in their journey.
Cerberus: Ally from the past.

Sawa

: Priest of Yamato.

Man in a Black Robe

: Mysterious man in a black robe.

Sunori

: Captain of Giants.
Jormungandr: Captain of Giants.
Lucifer: An antagonist that acts from the shadows.

Earl Saint-Germain

: Lucifer's right hand whose identity and goals are revealed.

Uzu

: Priest, who inherited Hinokagutsuchi.

Amenominakanushi

: Heavenly Ancestral God of the Originating Heart of the Universe. The first god.

Princess Yasaka

: White Snake, which helps in battle against Lucifer's minions.

Mimikata

: Golden Dragon, which helps in battle against Lucifer's minions.
Beelzebub: Lucifer's subordinate.

Kisanadu

: Beautiful half-horse, subordinate of Lucifer.
Mikazuchi: God of Thunder, who helps Asuka.

Professor Feed

: Ally, who now guides the group.

Mr.s Goto

: Woman, who helped Asuka and now soothes Reiko.

Mutsu

: Former gang leader.
Yumiko Shirasagi: Tricked reincarnation of Izanami. Found in crystal casket along with Nakajima's corpse.
Akemi Nakajima: Found along Yumiko, deceased.

Simon Kelvin

: World-famous photographer, who Charles Feed called to Tokyo.
Gallery
Trivia
Simon Kelvin, a photographer appearing in the story, is named after a real life member of the bands Parliament and Funkadelic, Calvin Simon.
External Links