Roblox: DeepWoken - The Loop
Play Sound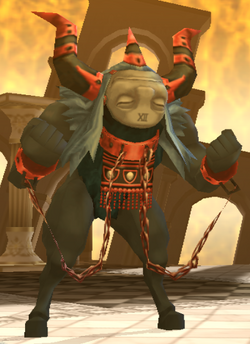 Neo Minotaur (ネオミノタウロス, Neo Minotaurosu)? is a Shadow in the Persona series.
Appearances
Profile
Persona 3 FES
Neo Minotaur is found on the 17th floor of Ptolomea on the Abyss of Time. It is susceptible to rage. The boss is capable of doing an extraordinary amount of damage per turn, however this can be taken advantage of with either Tetrakarn or Attack Mirrors, especially when the boss is enraged.
Persona 4
Neo Minotaur is first encountered as a boss along Path 3 of Yomotsu Hirasaka, blocking the party's way midway through the area.
This shadow will later be encountered as a regular enemy on Paths 7-8 of the dungeon, and rarely on Path 4. Despite this version's high HP total for normal encounters, it takes greatly increased damage, even from Physical attacks which it resists. After being defeated, Neo Minotaurs may drop Tyrannical Hide. Selling 10 Tyrannical Hides at the TV extension of Daidara will unlock the Stella Greaves for Chie Satonaka.
Stats
Persona 3 FES: The Answer
Persona 4
List of Skills

Skill
Effect
Mabufudyne
Deals heavy Ice damage to all foes.
Rampage
Deals light Phys damage to all foes 1x to 3x.
Cruel Attack
Medium Phys dmg, 1 foe. Bonus damage to foes that are knocked down.
Auto-Mataru
Party begins the battle with Matarukaja.
Evade Fire
Triples evasion rate against Fire attacks.
Ice Amp
Strengthens Ice attacks by 50%.
Power Charge
Next physical attack will be 250% greater in power.
Mind Charge
Next magical attack will be 250% greater in power.
Trivia
Of all the bosses faced in the Abyss of Time, Neo Minotaur is the only one that is purely fought alone; the other bosses are faced in a group, and in the case of the Brilliant Cyclops and Conceited Maya, both of them are capable of summoning more Shadows to the field. Therefore, it is the only boss that is not fought in a group that is incapable of using "Summon" to bring out more Shadows.
In Persona 4, the sub-boss Neo Minotaur's is of the Magician Arcana. This change remains in Golden.