World of Warcraft: Dragonflight - The Loop
Play Sound
This page is currently under construction.
This page was previously either non-existent or all but empty, and is currently undergoing substantial construction by one or more users.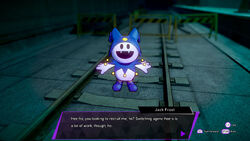 "But, it's dangerous to travel the Netherworld alone. Therefore, I recommend we recruit some demons to fight on our side. By talking to demons, you can try and persuade them to join your cause."
Negotiation, also known as demon conversation (悪魔会話, Akuma kaiwa)? or simply Talk or Contact is a mechanic in the series. It generally involves the player party conversing with the enemy, interrupting the regular battle process. It is the primary means of recruiting demons directly, as well as to obtain items and money.
The mechanic is a staple to the Megami Tensei series, present since the first entry, and would make its way to the Shin Megami Tensei series. The mechanic would appear in early releases of the Persona series as well, but that would cease after Persona 2: Eternal Punishment, being substituted by the Social Link mechanic. The negotiation mechanic would only return later in Persona 5 as part of the Hold Up process.
Appearances
Profile
Shin Megami Tensei III: Nocturne
The demon negotiation system in Shin Megami Tensei III: Nocturne allows the Demi-fiend to engage in conversation with enemy demons. The speaker (usually, but not always, the Demi-fiend) tries to persuade an enemy demon to join their party. There are two restrictions on negotiation:
1. There must be at least one open space in the player party stock.
2. There cannot be a demon of the same species in the party (i.e. A 2nd Power cannot be recruited.)
Demon Properties in Negotiation
Each demon has unique invisible properties related in negotiation. Particularly, "tone," "gender" and "age." For instance, Nekomata's properties are "witch," "woman" and "youth."
Conditions in Negotiation
If there are any other enemy demons alive, aside from the one that is inside conversation, there is a chance they may interrupt, so it is recommended to kill any demons other than the target before commencing discussion.
Recruitment
Requirements for recruiting demons vary by their race, gender and affiliation. For example, some demons (such as Incubi or Succubi) can be bribed with money or items, while others (such as Angels or Archangels) may only ask a philosophical question ("Do you envy how plants live?"). Some can be seduced by a beautiful speaker, some can be flattered, and some will even join without a moment's hesitation. However, some may refuse to join based on opposing ideals depending on their Light and Dark alignment (Tyrants, Deities, Raptors, Megami and Viles), demons with higher levels, because they don't feel like it, or because they simply can't understand human speech (Foul, Haunt and Wilder).
Cases where negotiation is blocked
Demon negotiation, however, is radically altered when the "moon," Kagutsuchi, is full, as it causes demons to be agitated and drunk with power. Demon conversation will always fail against bosses, any demons inhabiting the Labyrinth of Amala, and any demons fought in the Amala Network (though they will sometimes join of their own accord).
Bosses or forced encounters
Status ailments: Stone, Freeze, Bind, Sleep, Panic
Party stock is maximized
Kagutsuchi is full
Certain races when the Light/Dark alignment is opposed
Certain races that cannot understand human speech (Jive Talk bypasses this.)
Demons of the Mitama race.
Demons in the extra dungeon.
The whole talk session is to conclude with a final question from the demon. There are cases where the level difference may matter when answering, and there are cases where the correct answer is simply randomized.
Additionally, unique items can be received from having unique combinations of ally and enemy demons. For more information, see Special conversation.
Demon Begins Negotiation
There are times where the demon will take the initiative in negotiation. They will answer the player party's questions correctly, and give them items and Macca at request.
On principle, all demons can give 3 different items. Most demons share the same pool of items, with very few exceptions.
Shin Megami Tensei V
The general process of negotiation starts with having to respond to 1 or 2 sets of dialogue. The talking session may involve only having to answer once, but may lead to a longer branch of questions. The topics themselves usually depend on the demon's personality traits, which vary from demon to demon. There are cases where the exact same scenario will play, but the results of the responses may differ depending on the demon's personality.
If the talk session fails and the conversation ends, depending on the dialogue choice, either the enemy will leave the battle, only a single turn icon will be used up (passing the turn to the next ally in line) or the phase will instantly switch to the enemy's.
After the talk is complete, the session will be concluded with the demon demanding Macca, items, HP and/or MP. The bargaining phase that comes after the talk may keep going, with the demon demanding more than once. If the protagonist doesn't have what they want at any point, it is possible they'll ask for something else instead. Once appeased, they'll instantly join the party, ending the battle regardless of the condition of other enemies.
Unlike in Shin Megami Tensei III: Nocturne, other demons cannot interrupt the conversation process.
There are certain Miracles, particularly in the Supremacy category, that can help out in the negotiation process in a specific way.
Beginning Negotiation
Initially, negotiation may only be begun during the protagonist's turn, and is innately unavailable during the demons'. Purchasing the "Art of Intervention" Miracle will allow the protagonist to butt in and talk during a demon's turn.
Certain demons cannot be talked to:
Demons of the Mitama race;
Abscesses encounters;
Mini-bosses & bosses (Abscesses and Punisher demons included)
If the protagonist or his target demons are afflicted with Sleep, Charm or Confusion, he won't be able to participate in negotiation, immediately ending his turn.
Depending on the combination of species of demons, it is possible to instead get the ally demon to begin a special, unique conversation between these two species of demons. For more information, see special conversation.
Tones
Each demon has a tone (口調, kuchō)? that influences their dialogue, the questions they ask, and in the scenario that they ask matching questions, the responses the protagonist can give as well as their results. For example, Slime, Black Ooze, Legion and Pisaca all have a distorted way of speaking, and their sets of questions. responses and outcomes will match.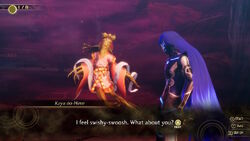 On the other hand, it is very likely there are also demons that have personality traits unique to their individual species, and as such will deliver unique dialogue in negotiation. These demons include Mermaid, Kaya-no-Hime and Loup-garou. The tutorial Pixie also has unique dialogue, where the conversation goes straight without branching out, and answering incorrectly will simply repeat the same question.
Even demons that cannot be encountered and thus negotiated with have pre-established personality traits, but those can only be seen in level-up dialogue. For example, Leanan Sidhe will speak the exact same way as demons of the Fatale personality. In the same manner, certain demons will have unique dialogue as well, such as Amanozako and Fionn mac Cumhaill.
The different personalities are most likely distinguished by age, sex and, depending on the combinations, one of two tones of speaking. The traits that determine their personality are hidden.
Tone
Demons
Monster
Slime, Daemon, Turdak, Mothman, Legion, Pisaca, Black Ooze, Kumbhanda, Yurlungur, Hecatoncheires
Girl
おんなのこ
Pixie, Mandrake, Zhen, Sudama, Bugs, Hua Po
Tough
Preta, Tsuchigumo, Mokoi, Ippon-Datara, Rakshasa, Incubus, Oni, Naga, Flauros, Kin-Ki, Sui-Ki, Fuu-Ki, Mada
Boy
少年
Onmoraki, Kodama, Agathion, Obariyon, Aitvaras, Koppa Tengu, Poltergeist, Chironnup, Basilisk
Noble
Cait Sith, Shiki-Ouji, Setanta, Ose, Naga Raja, Fafnir
Old Man
Sandman, Koropokkur, Forneus, Mishaguji, Kaiwan, Hanuman, Girimehkala
Brute
Azumi, Yaksini, Dakini, Lachesis, Queen Medb, Rangda, Kali
Beast
Bicorn, Inugami, Orthrus, Anzu, Byakko, Yamata-no-Orochi, Nue, Cerberus
Jack Bros
Jack Frost, Jack-o'-Lantern
Pompous
Andras, Narcissus, Macabre, Oberon, Orobas, Nebiros, Throne, Adramelech
Wise
Berith, Loa, Eligor, Baphomet, Kurama Tengu, Pazuzu, Decarabia, Ongyo-Ki, Chi You
Fatale
Manananggal, Lamia, Valkyrie, Clotho, Titania
Peppy
Kelpie, Nekomata, Lilim, Succubus, Atropos
* The tones have official terms in the SMT5 Official Guidebook in Japanese.[1][2]
* A majority of the terms listed on the table are yet to be confirmed.
Dialogue and Outcomes
Main article: Negotiation Dialogue in Shin Megami Tensei V
A set of dialogue is randomly selected out of multiple. The list of outcomes differ between demons: whether they're different depending on pre-set personality traits or if they are unique for each individual demon are still unclear.
Each line of dialogue is split between multiple dialogue choices, with each choice generally leading to one of multiple outcomes:
The dialogue is continued in a branch;
The current dialogue is ended, and switches to another set of dialogue (the outcome is usually specific, but can be random between multiple choices (all choices may have the same line of text));
The conversation ends, and 1 turn icon is used, switching to the next ally's turn;

Should the "Articulate Discourse" Miracle be learned, only 1/2 turn icons will be used up.

The conversation ends, but no turn icon is used, and the turn isn't switched to the next ally;
The conversation ends, switching to the enemy phase instantly;
The target leaves the battle, ending the conversation, and a turn icon is used;
The target gives the user an item and leaves the battle. Conversation is ended and a turn icon is used.
The conversation instantly leads to the bargain phase;
The target is instantly recruited;
Should the "Pacification" Miracle be purchased, there's a chance for the demon to forgive the protagonist, should their mood sour.
Should the protagonist be enhanced with the effects of the Magatsuhi skill Omagatoki: Sincerity, he will be allowed to fail up to 2 times in a demon conversation.
In certain dialogue choices, the outcome itself may be random, and may lead to one of multiple outcomes. Sometimes, all dialogue choices are random, and may even be matching in a way where the outcome is the same no matter what.
Even if different demons have the same dialogue, the outcome of the same option may differ.
There are cases when the demon may compare theirs and the user's stats, and winning or losing in itself also determines the result of the conversation.
Bargaining
The bargaining process is a general outcome for most positive dialogue choices. It usually involves having the enemy demon demand Macca, items or a specific portion of the protagonist's HP or MP (should the demand override his remaining HP/MP, only 1 of each will be spared for him, while the demon gets the rest.)
Giving what the demon demands will eventually satisfy it and join the protagonist's party. But there are cases where they might ask for too much, in which case the protagonist may refuse, telling them "they've had enough." Demons may agree with him if he's right, but otherwise, they might either get hostile or leave.
The value that determines when they'd have enough is invisible, but there are rare cases where giving them nothing at all might technically satisfy them, in which case it's very likely it's based on whether the demon's demand goes out of bounds, rather than if the amount they've been given already does. For example, if a demon has been given 200 Macca, and they demand 100 more, while their value is 250, it'd be safe to say that they've had enough.
There are scenarios where the protagonist simply doesn't have what they demand, in which case he may let them know, and they'll change their mind and ask for something else. He may also just generally ask they request something else, though they'll probably get hostile if he asks twice in a row.
In uncommon cases, when negotiation starts, the demon may decide they don't care too much, and will explicitly state they'll ask only once, for a particular sum of Macca. These cases in particular make it very easy to appease the demon and get them to join, without any complications.
Criteria for Recruitment
Demons may only be recruited through specific dialogue choices, or through being satisfied by being given items and money in the bargaining process, in which case they'll be ready to join the party. Should they join, and the "Inspiring Covenant" Miracle is active, they'll also level up instantly. Additionally, with the "Divine Persuasion" Miracle, only accessible in New Game Plus, there's a chance they'll join unconditionally.
If the demon is of a higher level, or if the stock is full, even though they have been successfully appeased to, they will not join the protagonist because of these circumstances, and will instead have to be talked to in another battle when the conditions are met, in which case they will instantly join the party and end the battle instantaneously. If the criteria is still not met when they're talked to again, the target will leave the battle, but it won't end it if there are still more enemies - 1 turn icon will be used up and the turn will be passed to the next ally in line. They cannot be recruited in this fashion during a full or a new moon.
The "Divine Eminence" Miracle, only accessed in New Game Plus, lets the protagonist recruit demons of a higher level than him.
Talking to demons of the same species with one in the player party will end the battle instantly, potentially gifting the party with an item or Macca in the process. Additionally, if the "Kindred Favor" Miracle is owned, they may occassionally heal the player party in battle.
Moon Phases
"EEHEe... WHere'd the MooN go...? No, nOT yOU, IdIot! i'm LoOkin' for thE Moon!"
—Demons of the distorted personality on New Moons, Shin Megami Tensei V.
The phase of the moon also influences the negotiation process: if during a full or a new moon, there's a chance demons will have a pre-set and unique negotiation process, depending on the phase of the moon, as well as their personality. The same applies for when a full moon or a new moon is near as well (1/8, 2/8, 6/8 and 7/8). Some of the possible outcomes include:
They may instantly skip the talking and go straight to bargaining while only demanding a single sum of Macca (but will never leave battle if unsatisfied);
They may end the conversation with only a cost of 1 turn icon and passing the turn to the next ally
They will instantly switch to the enemy phase.
They will be unaffected.
The demon's mood is determined by chance; this behavior is only set to specific enemies in battle, similarly to an invisible battle condition; even if the individual demon may be impossible to talk to, other demons in the encounter may still be available to converse with.
On the topic of talking to demons of species that are already in the player party, the full moon overrides their behavior as an already recruited demon, but they can still be talked to normally during new moons. If the demon would negotiate during full moons as an unrecruited demon, their behavior while having a recruited ally will not be influenced by the phase of the moon.
Cornered demons and party
If the player party enters battle with the enemy turn coming first, there's a chance the battle will be paused, and the enemy will negotiate with the protagonist, should he want to be spared and escape from battle. As such, they'll demand money similarly to the regular bargaining process, but they'll only demand money, and no macca. Just like with there, they may demand more money, and rejecting their demand may instantly get the faction to begin their turn.
On the other hand, the protagonist may get enemies to beg for their lives should their HP be low with the "Deathly Aura" set of Miracles:
Deathly Aura I allows the protagonist the choice between getting them to join him or ignore them and get back to their own turn in combat;
Deathly Aura II grants the protagonist the option to demand money from them. He can let them go afterward, but he may ask for more money afterwards, but the enemy may find them to be too greedy and switch to the enemy phase instantly;
Deathly Aura III grants the protagonist the option to demand their Essence.
Megami Ibunroku Persona
In Megami Ibunroku Persona, demons may be contacted by the party, where the whole team will join to converse with a specific species of demons. It is a means to obtain the demons' spell cards.
Criteria for beginning negotiation
Demons of the Meta race (generally humans) cannot be negotiated with. Additionally, demons that have already given their spell cards will cease negotiation and flee.
Negotiation skills and demon traits
The party makes the first move, and they can only interact with them via actions in the form of skills, each giving different outcomes depending on the demon's traits. Each party member can hold up to 4 skills. All party members can be used at any time in the midst of the conversation process.
The demons may have multiple traits that determine their responses in negotiation, and each demon can have up to 4 traits at a time. For example, Zombie Girl has the "Foolish" and "Forceful" traits. For more information on these traits, see Personality → Persona series.
Conversation and moodlets
The primary factor that conversing with demons influences is their moodlet chart. The demon has 4 moods: happy, eager, angry and scared. Each action may increase a certain mood of the demon. The demons' innate mood pre-negotiation is also affected depending on the demon's species.
After selecting a response, aside from the demon's reaction, it is possible that the demons may respond in a way that will require the player party respond in the form of a dialogue choice, which in itself can further affect the demon's mood.
Outcome of negotiation
The negotiation process ends when a demon's mood chart starts flashing, representing up to 2 emotions. The combination of emotions ultimately determines the outcome, which are the same regardless of the demon's traits.
It is possible to end the negotiation with being given items, having the enemy leave, afflicting them with an ailment, or even being given the option to ask them for their spell card. Either way, once their mood is maximized, they will no longer be able to be negotiated with for the rest of the battle.
Demons that are higher level than the party will not give their spell cards.
| Mood(s) | Outcome |
| --- | --- |
| Eager | Spell Card |
| Eager + Scared | Spell Card |
| Eager + Happy | Spell Card or Item (Dialogue option) |
| Eager + Angry | Spell Card (+ possible Damage dealt) |
| Happy | Afflicted with Happy or give gift |
| Happy + Scared | Afflicted with Charm, give gift or leave |
| Happy + Angry | Gift or leave |
| Scared | Afflicted with Bind, give gift or leave |
| Scared + Angry | Afflicted with Confusion, give gift or leave |
| Angry | Demon's power increased, or afflict party member with Bind. |
Soul Hackers 2
Negotiation (交渉*)? is only present in Demon Recon, where demons will be sent out to explore dungeons, and can instead find another demon that Ringo can negotiate with to bring them to the party.
Persona 5 / Royal
"Well then, let's do the first step: Knock all the enemies down, and do a Hold Up!"
—Morgana, Persona 5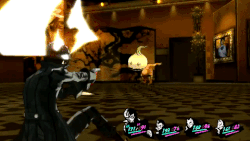 Hold Up is a game mechanic in Persona 5. It allows the protagonist to choose between an All-Out Attack or Negotiation by having the protagonist and the Phantom Thieves of Hearts surround the Shadows and point their guns at them.
To initiate a Hold Up, the party must Down all foes by targeting their weaknesses or by inflicting a Critical hit. A Hold Up is automatically initiated, after which the protagonist has the following options: All-Out Attack, Talk or Break Formation. Bosses and mini-bosses cannot be negotiated with. Choosing to Break Formation lets the current combatant resume battle in a One More.
A Hold Up will not trigger, even if all enemies are Downed, if the protagonist himself is Downed or suffering from an ailment, or is the only combatant that isn't Downed or ailing. Raising Futaba Sakura's Confidant such that she unlocks Position Hack can cause the battle to begin with a Hold Up, even if it was an enemy ambush.
Options
All-Out Attack
"Remember how I taught you Hold Ups and All-out Attacks? I'll teach you their practical use now. There's another use for Hold Ups besides simply defeating enemies."
—Morgana, Persona 5
Similar to previous Persona games, an All-Out Attack is a special group attack that can be initiated when all enemies are Downed. Choosing this option causes the current non-Downed teammates in battle to join the protagonist in a team attack that deals massive Almighty damage to the enemies.
As a bonus, should this attack kill all enemies, a special conclusion screen appears called a Finishing Touch where a party member is highlighted with a special background and dialogue. The character selected depends on which character scored the final downing hit. For example, if Morgana downs the last enemy, he will be highlighted, even if he did not down all of the other enemies himself.
Negotiation
"Shadows are beings born from people's hearts, so naturally, they can talk too. In other words, you can communicate with them. Get it? If you talk to them when they're cornered, they might offer money or items since they don't want to die. In fact, talking has a better chance of scoring something great, as opposed to just offing them."
—Morgana, Persona 5
The protagonist can demand that the Shadow gives him some money in exchange for their freedom. The money depends on the enemy's level, but the result is higher than defeating the Shadow itself. Additionally, the protagonist's currently equipped Persona also determines the payout, with higher Luck stat yielding greater totals.
The protagonist can request an item as well, with the available items being fixed for each Shadow. Each Shadow is able to give four different items: two normal, one rare, and one Skill Card. If the protagonist has a Persona in his possession that matches the Shadow being negotiated with, the Shadow will be more obliging and will offer rarer items or more money. If Futaba highlights an enemy with Treasure Skimmer at the beginning of the fight, the scanned enemy will always give a rare item when the protagonist asks them for one.
Should the protagonist choose these options, all other enemies during the Hold Up also leave, but they do not give any extra money, EXP or dropped items if they were not defeated. The enemy negotiated with will only yield EXP, but will not give anything else.
If the protagonist has Toranosuke Yoshida's Confidant at Rank 2 or higher, he can attempt to ask for more money or items after the initial Negotiation ("You can do better than that."), which can cause the Shadow to give another sum of money or a duplicate of the item received. The protagonist can extort a Shadow endlessly with no upper limit. However, there is a chance for this to fail, causing the Shadow to either summon reinforcements or get a free attack. If the protagonist downs the enemies again, he can restart the same Negotiation chain for more money and items if possible.
Boosting Yoshida's Confidant to Rank 3 and 5 also gives the protagonist the chance of acquiring even more money or a rarer item respectively ("Show me the money", "Show me the goods"). Choosing these options will immediately end the battle instead of allowing the protagonist to extort almost endlessly, but also poses no risk of angering the Shadow.
Attempting to talk to Shadows affected by certain ailments can have different effects. Frozen, Shocked, Sleeping or Confused Shadows will be unable to hold conversation. However, attempting to negotiate with Shadows afflicted with Burn, Dizziness, Forget, Despair or Rage will result in their ailment being automatically cured before starting Negotiation. If the Shadow is afflicted with Fear, they'll instantly flee (and the enemy will grant no EXP). In the case of Brainwash, the conversation options are changed to special ones; however, their success rate isn't guaranteed.
In Royal, negotiations with Red Shadows (Berith, Shiki-Ouji, Take-Minakata, Anubis, Girimehkala, Skadi, Kali, Abaddon and Fafnir) will automatically fail unless their HP is below a quarter.
Mid-bosses can be talked to, although attempting to make them offer anything will have no effect (the mid-boss will simply refuse any offers angrily) and the group is forced to use an All-Out Attack or break formation.
Treasure Demons cannot be negotiated with. Instead, they will instantly join the protagonist's collection when chosen to talk to them.
Mask
"I-Is that the Shadow from earlier!? Don't tell me... Did you take in the Shadow's appearance and powers as a Persona!?"
—Morgana, Persona 5
The protagonist can request that the Shadow join him as a Persona. Doing so requires that he appeals to them by answering two questions. All Shadows have a personality attributed to them, which can be viewed by Analyzing them or viewing their pre-negotiation blurb when Downed. A Shadow can either be Timid, Irritable, Upbeat, or Gloomy, each requiring the protagonist to answer their questions with a certain tone. Preferably, imitating their personality will work, which is key to having the Shadow "be reminded of themselves" and hence "remember they're a Persona":
Timid Shadows prefer Kind answers, are neutral to Serious answers and dislike Playful/Ambiguous answers.
Irritable Shadows prefer Serious answers, are neutral to Playful answers and dislike Kind/Ambiguous answers.
Gloomy Shadows prefer Ambiguous answers, are neutral to Kind answers and dislike Serious/Playful answers.
Upbeat Shadows like Playful answers, are neutral to Kind answers and dislike Serious/Ambiguous answers.
If the Shadow likes the answer, a yellow musical note appears. If they are neutral to the answer, they will have blue sweat drops. If they dislike the answer, they will have red anger marks. The protagonist needs to answer their second question with a positive response to acquire them as a Persona, even if they dislike the first question. If the protagonist answers their second question with a neutral answer, they will give him an item instead of joining. If the second question is answered with a disliked response, the Shadow will attack, causing the Negotiation to fail.
If the protagonist gives a Shadow an unfavorable response, and if a teammate's Confidant is at least Rank 4 (Rank 6 for Goro Akechi), they have a chance of stepping in and helping the protagonist retry at negotiating.
Having Ann Takamaki's Confidant at Rank 7 or higher lets her use Sexy Technique, which may cause the Shadow to behave as if it had been given a favored response.
There are a few conditions where a Shadow will join without needing to negotiate.
The first is to have the Shadow's corresponding Persona registered in the compendium. When that happens, the Shadow can be recruited without negotiation. If the protagonist attempts to negotiate for anything else, they will offer to return to his side before starting negotiations. The protagonist always has the option of refusing to reclaim the Shadow.
If the Shadow is the last enemy standing and is low on HP, it will beg for mercy and can be recruited without any questions. The other negotiation options will also work normally. Timid Shadows are more likely to beg for mercy, while Irritable Shadows will almost never beg for mercy.
Treasure Demons will always join without asking any questions.
Having Yoshida's Confidant at Rank 8 or higher will, on occasion, allow the protagonist to automatically talk the Shadow into joining them. ("Join my cause.")
Having Shinya Oda's Confidant at Rank 3 or higher will unlock an option to fire a Warning Shot during Negotiation by pressing square. Doing so will consume ammo, but has a chance of getting the Shadow to immediately be recruited. It can also startle the Shadow enough to retaliate or flee.
The protagonist can only obtain Personas of Shadows that are equal or lower level than the protagonist. Attempting to recruit a higher-level Shadow, even if it begs for mercy or the "Join my cause" dialogue option is chosen, will instead cause it to give an item and flee. Only by maxing out Yoshida's Confidant will the protagonist be able to recruit Shadows of any level.
Persona 5 Royal
In Persona 5 Royal, the party members' Confidant abilities that grant another try after negotiation fails have been modified. Instead of depending on chance, each character's ability will always work, but only under circumstances based on the target's status. The ability's criteria varies between each character:
Hostage
Sometimes, if a Shadow Downs a party member and leaves them weak enough without being knocked out, the party member will be taken hostage and negotiations will begin with the enemy at the position of strength. The Shadow can ask from anything ranging between items, HP, SP and money. Appeasing the Shadow will end negotiations and let battle resume, but refusing any of its demands will cause the hostage to instantly be killed.
It is possible to use the Thieves Guild to instantly end a Negotiation, allowing easy access to the "Competent Negotiator" trophy without losing resources.
Having Ann Takamaki's Confidant at Rank 5 or higher may let her use Crocodile Tears, which lowers the magnitude of the Shadow's demands.
Trivia
If Persona 5 is hacked accordingly, it is possible to initiate a Hold Up with almost any major boss by hitting their weaknesses (usually by adding an enemy skill onto a Persona, such as Distorted Vanity), with the exception being those where an enemy object cannot be targeted. However, this usually causes the game to soft-lock due to most bosses having no Hold-Up dialogue presented for them.
Characters
Playable
Jin - Akira - Rand - Gale
Non-Playable
Lena - Amy Kashihara - Paku - Haamiru - Mephisto - Isaac - Michael - Lucifer - Faruha - Kerumido - Seku - Rejiinu - Ganku - Kuun - Muuru - Flame Apostle - Ice Apostle - Shugoshin -

Secundus

-

Zosma

Locations
Harajuku

Main Street

-

Park

-

Mansion

-

Underground Shopping Center

-

School

-

Akuma no Hokora

-

Angel's Tower

Makai

Inelus Village

-

Acheron River

-

Central Land

-

Dark Palace

- Deep Hole -

Black Forest

-

Peril Forest

- Underworld -

Annwn Town

-

Heimdall Plains

-

Babylon Labyrinth

Tenkai

Midkingdom

-

Highest Peak

-

Light Palace

-

Fire Machine Mountain

- Eden -

Huge Floodgate

-

Water Angels Village

-

Lotus Marsh

-

Dios Forest

-

Earth Angels Village

-

Extensive Earthly Forest

-

Tower of Babel

-

Seele Plains

-

Shugyōja Road

-

Wind Angels Village

-

Fire Angels Village

Niflheim

Suneefiyoru

-

Dark North

-

Hvergelmir

-

Gimle Snowfield

-

Norðri Shrine

-

Niðafjöll

-

Vestri Shrine

-

Ice Apostle Castle

-

Ice Apostles Castle Town

Muspelheim

Soorufiyoru

-

Austri Shrine

-

Mímisbrunnr

- Fairy Village -

Rogafieru

-

Suðri Shrine

-

Flame Apostle Castle

-

Flame Apostles Castle Town

Ginnungagap

Auðumla Town

-

Huge Bridge

-

Bridge Cave

-

Shugoshin Cave

Other
Lists
Demons - Skills