Fire Emblem Warriors: Three Hopes - The Loop
Play Sound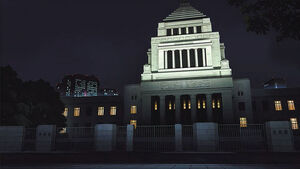 Nagatacho (永田町, Nagatachō)? is a location in the series.
History
[
]
Nagatachō is a district in Tokyo, Japan. It is where the National Diet and other government buildings are located, such as the Prime Minister's office and various political parties' headquarters.
Appearances
[
]
Profile
[
]
Shin Megami Tensei V

[

]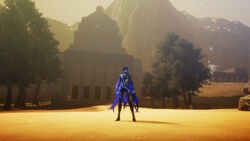 The protagonist visits Nagatacho while seeking information on Ichiro Dazai and the angels of Bethel after finding out that the angels are using the Tokyo Diet Building as a stronghold.
Persona 5

[

]
Nagatacho is where the National Diet Building is located. It appears in the scenarios revolving around Masayoshi Shido and the parliamentary elections taking place in December, and after the Phantom Thieves of Hearts enacted their plan after infiltrating Sae Niijima's Palace. The Thieves also spent time there to figure out the keyword to Shido's Palace after realizing that the building is its location. However, despite the location being shown on the Tokyo map, it can never be visited again.
Devil Survivor

[

]
A battle against Naoya's summoned demons takes place on the 5th Day here. The destroyed National Diet building is symbolic due to the fact that the government cannot help its citizens anymore.
Treasure
[
]
Shin Megami Tensei V

[

]
Mokoi's Essence

Aogami Type-2 Essence

Glory x50

Jack-o'-Lantern's Essence

Ippon-Datara's Essence
Enemies
[
]
Shin Megami Tensei V

[

]
Level
Race
Demon
HP
Phys
Fire
Ice
Elec
Force
Light
Dark
Res
Skills
Drop
4
Raptor
Onmoraki
60
-
Res
Wk
-
Wk
-
-
Wk:Mirage
Agi
Life Stone,

Fire Shard

,

Onmoraki's Essence

6
Yoma
Mandrake
66
-
Wk
-
Res
-
-
-
Wk:Mirage
Zio
Life Stone,

Elec Shard

,

Mandrake's Essence

7
Beast
Cait Sith
93
-
-
-
Res
Wk
-
-
-
Dia
Life Stone,

Chakra Drop

,

Cait Sith's Essence

7
Brute
Daemon
78
-
Res
-
Wk
-
Wk
Nul
-
Hellish Slash
Life Stone,

Fire Shard

,

Daemon's Essence

8
Night
Sandman
81
-
-
-
Wk
Res
-
-
Nul:Sleep
Dream Needle
Life Stone,

Ice Shard

,

Sandman's Essence

10
Yoma
Agathion
80
-
-
Wk
Nul
-
-
Wk
-
Zio
Life Stone,

Elec Shard

,

Agathion's Essence

12
Haunt
Obariyon
167
-
-
Wk
Res
-
Wk
Res
-
Sukunda, Sukukaja
Life Stone,

Chakra Drop

,

Obariyon's Essence

13
Jirae
Tsuchigumo
205
-
-
Wk
Res
-
-
-
Wk:Charm, Res:Poison
Mazio
Life Stone, Revival Bead,

Tsuchigumo's Essence

14
Raptor
Zhen
109
-
Wk
-
-
-
-
Res
Res:Mirage/Poison
Needle Spray, Toxic Sting
Life Stone,

Elec Shard

,

Zhen's Essence

14
Wilder
Bicorn
171
-
-
-
Wk
-
Wk
Nul
-
Beatdown
Life Stone,

Bicorn's Essence

,

Bicorn Horn

16
Night
Mokoi
157
-
-
-
Res
Wk
-
-
-
Pulinpa, Dustoma
Life Stone, Fortune,

Mokoi's Essence

17
Brute
Ippon-Datara
246
-
Res
-
-
-
Wk
-
Wk:Poison
Beatdown, Heat Wave
Life Stone, Revival Bead,

Ippon-Datara's Essence
Gallery
[
]