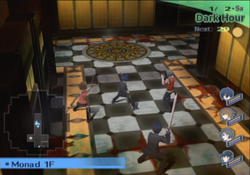 Monad (深層モナド, Shinsou Monado)? is an optional block of Tartarus in Persona 3.
Profile
[
]
In Persona 3 FES, Monad becomes available after having reached the top of the Adamah Block (254F) and defeating the Reaper and turning in the quest. In the original version of Persona 3, it would become accessible right after reaching the top floor of the Adamah Block. Monad will appear as an enormous door to the right of the stairs at the entrance (on 1F). It consists of 10 floors, each of which are larger than the rest of Tartarus. Visually it resembles the Thebel Block, but with an orange color theme instead of green. All Shadows are Lv. 88+, making Monad an excellent way to level up quickly. From the 6th floor onward, the Shadows of this block will appear in mixed groups, forcing the party to choose their attacks more carefully while reducing the effectiveness of multi-target attacks.
The 10th and final floor of Monad contains a chest with ¥1,000,000. As part of Request #55, the protagonist is asked to defeat "The Ultimate Opponent" on Monad's 10th floor who is none other than Elizabeth or Theodore. Note that Request #55 is only available in New Game Plus if the protagonist spared Ryoji (Except for FES where it will unlock automatically in New Game+) .
In New Game Plus, Monad Depths will be available for exploration from April 22nd if it was unlocked during the previous playthrough (Except for FES where it will unlock automatically in New Game+).
In Persona 3 Portable, Monad is available when Request #53 is completed. After turning in the quest, the protagonist can accept Request #55 and #72.
Shuffle Time Persona
[
]
Shadows
[
]
Items of Interest
[
]
Floor
Item
2
Mary's Resolve
Bow
Tonbo-kiri
Spear
Hallowed Plate
Armor (M)
3
Myohou Muramasa
2h Swd
Antimatter Cannon
Gun
Eternal Shoes
Footwear (F)
4
Double Ziggurat
Gloves
Golden Crusher
Bludgeon
Eternal Plate
Armor (F)
5
Excalibur
1h Swd
Grand Slasher
Knife
Hallowed Boots
Footwear (M)
6
Excalibur
1h Swd
Grand Slasher
Knife
Hallowed Boots
Footwear (M)
7
Double Ziggurat
Gloves
Golden Crusher
Bludgeon
Eternal Plate
Armor (F)
8
Myohou Muramasa
2h Swd
Antimatter Cannon
Gun
Eternal Shoes
Footwear (F)
9
Mary's Resolve
Bow
Tonbo-kiri
Spear
Hallowed Plate
Armor (M)
Trivia
[
]