Fire Emblem Warriors: Three Hopes - The Loop
Play Sound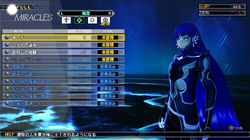 "In addition, by collecting Glory scattered across Da'at, you can learn special skills called Miracles. Strengthen yourself and your allies to confront enemies."
—
Aogami
,
Shin Megami Tensei V
promo
Miracles (神意, Kamui)? are a gameplay mechanic in Shin Megami Tensei V. They are said to be powerful abilities that alter the laws of nature.
Profile
[
]
Miracles grant the protagonist and the party various automatic abilities separate from regular skills, whether in the overworld or in battle. They function similarly to Apps in Shin Megami Tensei: Strange Journey and Shin Megami Tensei IV / IV: Apocalypse.
Individual Miracles can be obtained by paying a certain amount of Glory to Sophia while in the World of Shadows. They are generally unlocked for purchase by destroying Abscesses.
Miracles are divided into four categories:
Rank Violation and Inheritance Violation are unlocked in the Empyrean, and are given if the player's alignment matches which ending they chose: if the player's decisions through the game were mostly Law-aligned, choosing to Uphold God's Order will unlock Rank Violation; if the player's decisions were mostly Chaos-aligned, choosing to start an age of Myriad Gods will unlock Inheritance Violation.
In New Game Plus, if Reborn mode is chosen only the protagonist's learned Miracles will be carried over, and the ones that he hasn't learned will need to be unlocked via Abscesses again. Newborn mode carries over the Demon Proficiency set of skills should they have been learned previously, without the need to buy them again.
New Game Plus also automatically lets the protagonist learn Divine Persuasion and Divine Eminence.
Table of Miracles
[
]
| Name | Glory | Effect |
| --- | --- | --- |
| Knowledge of Tools | 85 | Allows your demons to use items during battle. |
| Unyielding Will | 35 | When a guarding ally is attacked, the Magatsuhi Gauge increases a little. |
| Invigorating Defense | 90 | An ally's MP will recover when guarding. |
| Magatsuhi Wellspring | 150 | All allies will slightly recover HP and MP if the Magatsuhi Gauge is full at the start of a turn. |
| Vengeful Opportunist | 30 | The Magatsuhi Gauge will slightly increase when guarding. |
| Fell Swoop | 30 | The Magatsuhi Gauge will very slightly increase when inflicting WEAK or CRITICAL. |
| Counter Incentive: Resist | 30 | The Magatsuhi Gauge will slightly increase when an ally's affinity resistance reduces damage from an enemy attack. |
| Counter Incentive: Null | 50 | The Magatsuhi Gauge will increase when an ally Nulls, Drains, or Repels an enemy attack. |
| Race Transcendence | 100 | The Nabohino will become able to use race-specific Magatsuhi Skills held by other party members.. |
| Magatsuhi Dispersion | 80 | The enemy Omagatoki: Critical effect will end when an ally guards, evades, Nulls, Repels or Drains an enemy attack. |
| Skillful Conservation | 150 | Very slightly decreases the amount of Magatsuhi consumed when using Magatsuhi skills. |
| Vengeance | 40 | The Magatsuhi Gauge greatly increases anytime an ally dies. |
| Forestall | 5 | Slashing an enemy in the field without being noticed will greatly increase the Magatsuhi Gauge at the start of a battle. |
| Constant Vigilance | 100 | The Magatsuhi Gauge increases a little at the start of a battle. |
| Embolden | 150 | Raises the amount added to the Magatsuhi Gauge each turn. |
| Enhanced Summon | 80 | Demon allies summoned in battle will have a random stat raised by 1 rank. |
| Dread | 100 | All enemies will have a random stat lowered by 1 rank at the start of a battle. |
| Kindred Favor | 35 | Talking with a demon while having that same demon in your party will prompt them to occasionally heal you in battle. |
| Articulate Discourse | 65 | Talking with a demon uses 1/2 of a Press Turn Icon. |
| Pacification | 90 | If a demon's mood sours mid-negotiaton, they may forgive you. |
| Inspiring Covenant | 150 | Recruiting demons in battle will cause them to immediately level up. |
| Art of Intervention | 100 | Use a demon ally's action to speak with a demon. |
| Divine Persuasion | 10 | Demons will sometimes join you unconditionally. |
| Divine Eminence | 10 | Demons above the Nahobino's level can be recruited through negotiation. |
| Deathly Aura I | 30 | Cornered demons may beg for their lives. |
| Deathly Aura II | 50 | Demand Macca from cornered demons. |
| Deathly Aura III | 70 | Demand Essence from cornered demons. |
| Name | Glory | Effect |
| --- | --- | --- |
| Hand of God | 5 | Rare chance to acquire one extra relic. |
| Warrior's Conception | 50 | Newly-fused demons will gain a stat bonus based on the stats of the demons fused. |
| Unforgotten Memories | 65 | Newly fused demons will gain EXP based on the stats of the demons fused. |
| Divine Amalgamation | 20 | Allows the Nahobino to acquire affinity resistances from essences during Essence Fusion. |
| Inheritance Violation | 10 | A demon's starting skills can be overwritten during skill inheritance. |
| Rank Violation | 10 | Level limitation for demon fusion is lifted. |
| Art of Essences I | 30 | Allows an additional skill to be selected from essences. |
| Art of Essences II | 80 | Allows up to two additional skills to be selected from essences. |
| Art of Essences III | 150 | Unlocks all essence skills. |
| Healer's Hospitality I | 40 | The healing cost at leyline founts is reduced by 25%. |
| Healer's Hospitality II | 100 | The healing cost at leyline founts is reduced by 50%. |
| Merchant's Hospitality I | 60 | Item prices at the Cadaver's Hollow are reduced by 25%. |
| Merchant's Hospitality II | 150 | Item prices at the Cadaver's Hollow are reduced by 50%. |
| Summoner's Hospitality I | 50 | The cost of summoning demons from the Demon Compendium is reduced by 10%. |
| Summoner's Hospitality II | 150 | The cost of summoning demons from the Demon Compendium is reduced by 30%. |
| Summoner's Hospitality III | 300 | The cost of summoning demons from the Demon Compendium is reduced by 50%. |
| Name | Glory | Effect |
| --- | --- | --- |
| Skill Manifestation | 50 | A demon ally may awaken to a new skill when leveling up. |
| Demonic Discipline | 150 | Increases the amount of EXP earned by demons in your stock after a battle. |
| Prayer of Strength | 200 | Additional +1 increase to a demon ally's Strength when the demon levels up (Only applies up to a certain level). |
| Prayer of Vitality | 130 | Additional +1 increase to a demon ally's Vitality when the demon levels up (Only applies up to a certain level). |
| Prayer of Magic | 200 | Additional +1 increase to a demon ally's Magic when the demon levels up (Only applies up to a certain level). |
| Prayer of Agility | 70 | Additional +1 increase to demon ally's Agility when the demon levels up (Only applies up to a certain level). |
| Prayer of Luck | 70 | Additional +1 increase to demon ally's Luck when the demon levels up (Only applies up to a certain level). |
| Empowering Cheer I | 5 | Half of MAX HP and MP are recovered when leveling up. |
| Empowering Cheer II | 50 | HP and MP are fully recovered when leveling up. |
| Demon Proficiency I | 50 | Increases demon ally's skill slots by 1. |
| Demon Proficiency II | 100 | Increases demon ally's skill slots by 1. |
| Demon Proficiency III | 150 | Increases demon ally's skill slots by 1. |
| Demon Proficiency IV | 300 | Increases demon ally's skill slots by 1. |
| Divine Proficiency I | 30 | Increases the Nahobino's skill slots by 1. |
| Divine Proficiency II | 60 | Increases the Nahobino's skill slots by 1. |
| Divine Proficiency III | 100 | Increases the Nahobino's skill slots by 1. |
| Divine Proficiency IV | 150 | Increases the Nahobino's skill slots by 1. |
| Divine Garrison I | 10 | Increases demon stock by 1. |
| Divine Garrison II | 20 | Increases demon stock by 1. |
| Divine Garrison III | 50 | Increases demon stock by 2. |
| Divine Garrison IV | 65 | Increases demon stock by 2. |
| Divine Garrison V | 80 | Increases demon stock by 2. |
| Divine Garrison VI | 90 | Increases demon stock by 2. |
| Divine Garrison VII | 100 | Increases demon stock by 2. |
| Divine Garrison VIII | 165 | Increases demon stock by 3. |
| Divine Garrison IX | 200 | Increases demon stock by 3. |
| Name | Glory | Effect |
| --- | --- | --- |
| Physical Mastery I | 120 | Increases the Nahobino's Physical skill potential by 1. |
| Physical Mastery II | 160 | Increases the Nahobino's Physical skill potential by 2. |
| Physical Mastery III | 200 | Increases the Nahobino's Physical skill potential by 2. |
| Physical Mastery IV | 300 | Increases the Nahobino's Physical skill potential by 2. |
| Physical Mastery V | 400 | Increases the Nahobino's Physical skill potential by 2. |
| Fire Mastery I | 50 | Increases the Nahobino's Fire skill potential by 1. |
| Fire Mastery II | 80 | Increases the Nahobino's Fire skill potential by 2. |
| Fire Mastery III | 100 | Increases the Nahobino's Fire skill potential by 2. |
| Fire Mastery IV | 130 | Increases the Nahobino's Fire skill potential by 2. |
| Fire Mastery V | 160 | Increases the Nahobino's Fire skill potential by 2. |
| Ice Mastery I | 50 | Increases the Nahobino's Ice skill potential by 1. |
| Ice Mastery II | 80 | Increases the Nahobino's Ice skill potential by 2. |
| Ice Mastery III | 100 | Increases the Nahobino's Ice skill potential by 2. |
| Ice Mastery IV | 130 | Increases the Nahobino's Ice skill potential by 2. |
| Ice Mastery V | 160 | Increases the Nahobino's Ice skill potential by 2. |
| Electric Mastery I | 50 | Increases the Nahobino's Electric skill potential by 1. |
| Electric Mastery II | 80 | Increases the Nahobino's Electric skill potential by 2. |
| Electric Mastery III | 100 | Increases the Nahobino's Electric skill potential by 2. |
| Electric Mastery IV | 130 | Increases the Nahobino's Electric skill potential by 2. |
| Electric Mastery V | 160 | Increases the Nahobino's Electric skill potential by 2. |
| Force Mastery I | 50 | Increases the Nahobino's Force skill potential by 1. |
| Force Mastery II | 80 | Increases the Nahobino's Force skill potential by 2. |
| Force Mastery III | 100 | Increases the Nahobino's Force skill potential by 2. |
| Force Mastery IV | 130 | Increases the Nahobino's Force skill potential by 2. |
| Force Mastery V | 160 | Increases the Nahobino's Force skill potential by 2. |
| Light Mastery I | 50 | Increases the Nahobino's Light skill potential by 1. |
| Light Mastery II | 80 | Increases the Nahobino's Light skill potential by 2. |
| Light Mastery III | 100 | Increases the Nahobino's Light skill potential by 2. |
| Light Mastery IV | 130 | Increases the Nahobino's Light skill potential by 2. |
| Light Mastery V | 160 | Increases the Nahobino's Light skill potential by 2. |
| Dark Mastery I | 50 | Increases the Nahobino's Dark skill potential by 1. |
| Dark Mastery II | 80 | Increases the Nahobino's Dark skill potential by 2. |
| Dark Mastery III | 100 | Increases the Nahobino's Dark skill potential by 2. |
| Dark Mastery IV | 130 | Increases the Nahobino's Dark skill potential by 2. |
| Dark Mastery V | 160 | Increases the Nahobino's Dark skill potential by 2. |
| Almighty Mastery I | 120 | Increases the Nahobino's Almighty skill potential by 1. |
| Almighty Mastery II | 160 | Increases the Nahobino's Almighty skill potential by 2. |
| Almighty Mastery III | 200 | Increases the Nahobino's Almighty skill potential by 2. |
| Almighty Mastery IV | 300 | Increases the Nahobino's Almighty skill potential by 2. |
| Almighty Mastery V | 400 | Increases the Nahobino's Almighty skill potential by 2. |
| Ailment Mastery I | 40 | Increases the Nahobino's Ailment skill potential by 1. |
| Ailment Mastery II | 55 | Increases the Nahobino's Ailment skill potential by 2. |
| Ailment Mastery III | 70 | Increases the Nahobino's Ailment skill potential by 2. |
| Ailment Mastery IV | 90 | Increases the Nahobino's Ailment skill potential by 2. |
| Ailment Mastery V | 140 | Increases the Nahobino's Ailment skill potential by 2. |
| Recover Mastery I | 60 | Increases the Nahobino's Healing skill potential by 1. |
| Recover Mastery II | 120 | Increases the Nahobino's Healing skill potential by 2. |
| Recover Mastery III | 200 | Increases the Nahobino's Healing skill potential by 2. |
| Support Mastery I | 60 | Increases the Nahobino's Support skill potential by 1. |
| Support Mastery II | 120 | Increases the Nahobino's Support skill potential by 2. |
| Support Mastery III | 200 | Increases the Nahobino's Support skill potential by 2. |