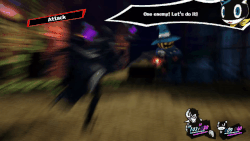 Melee Attack, normally referred to as just Attack (アタック*)? is a core mechanic in the series.
Overview
[
]
Melee attacks are regular Physical attacks available to all combatants and enemies at all times. They deal regular damage and unlike their skill counterpart, they have no cost to be used, other than to use up the current turn.
Melee attacks are calculated according to the power of the weapon equipped and the user's Strength stat. For more information on the formulas, see Damage.
In Shin Megami Tensei NINE, basic attack commands are absent. Instead, each melee weapon has an attached skill that serves this purpose. Demons have a physical skill that's listed separately from their other skills for this purpose as well.
In Shin Megami Tensei III: Nocturne, regular attacks have a base power of 32.
In Shin Megami Tensei V, regular attacks have 100 base power.
In Soul Hackers 2, regular attacks can also be ranged.
In Persona 5, Morgana's ability Pickpocket also gives the protagonist the chance to obtain negotiation drops from the enemy if he hits them with a melee attack.
Gallery
[
]