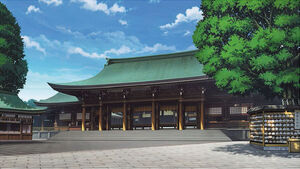 Meiji Shrine (明治神宮前, Meiji-Jingūmae)? is a location in Persona 5.
Meiji Shrine is a real-life location located in Shinjuku, Tokyo. It is served by the Meiji-jingumae Station. The shrine is dedicated to Emperor Meiji and his wife Empress Shoken and the shrine complex is surrounded by a large forest area.
Appearances
Edit
Persona 5 Edit
Meiji Shrine is one of the hangout spots in the Tokyo map. It is unlocked after reading Tokyo Shrines, a magazine that can be bought from Shibuya's Taiheido bookstore. It can be visited freely from August 7th.
The Meiji Shrine can be visited to increase Confidant rank points, and spending time here will bring the player to evening time. The player may choose to pay no offerings, pay 5 Yen, or 1000 Yen, then choose who to increase Confidant rank with. Up to 3 points will be added, depending on the three choices, and whether the player has brought a Persona with the same Arcana as the Confidant.
The player can also visit the shrine and spend time here with a Confidant. Confidant events happening here include:
August 6th: After clearing Futaba's Palace, the player may visit the shrine with Ann Takamaki and bump into Tae Takemi, increasing both confidant points.
The player may visit the shrine with Yusuke Kitagawa and receive a Hamaya to decorate his room with.
Community content is available under
CC-BY-SA
unless otherwise noted.