The Megami Tensei franchise, since from its first inception with Digital Devil Story: Megami Tensei in 1987 to the present and latest media released, has seen its elements referenced in popular culture. Below are some pop culture references of the series in other media.
Other Atlus brands
Edit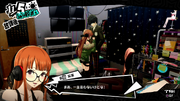 Catherine is a puzzle game described as a "romantic horror" featuring adult and horror themes released for the PlayStation 3 and Xbox 360. It features numerous references to the Persona series:
A Catherine figure can be found in Persona 5 Futaba Sakura's room.
A Teddie doll can be found at the Stray Sheep bar in Catherine.
Video Games
Edit
BlazBlue Cross Tag BattleEdit
A fighting game developed by Arc System Works, this game features appearances by characters from Persona 4.
Chain ChronicleEdit
Chain Chronicle (チェインクロニクル, Chein Kuronikuru)? is a tower defense rpg developed by Sega. A Persona 5 Collaboration Festival ran from January 19, 2017 to January 31, 2017.
Danganronpa seriesEdit
Danganronpa 2: Goodbye Despair: Five dolls of Monokuma, the game's mascot, can be found hidden in many locations in each chapter. Their appearance changes each chapter and those found on chapter 5 are wearing COMPs.
Danganronpa V3: Killing Harmony: Many faux Danganronpa games logos are shown at the end of the game, each one parodying a different franchise. One of them is called Shin Danganronpa 7: Despair vs. Hope.
Phantasy Star Online 2Edit
An MMORPG that is popular in Japan, it featured a collaboration to celebrate the release of Persona 5 in 2016, and Persona 3: Dancing in Moonlight and Persona 5: Dancing in Starlight in 2018.[1][2]
Animation
Edit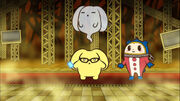 Publications
Edit
Fate/GUDAGUDA Order: One of the characters asks their franchise's Scathatch to float in mid-air while in seiza position while another points out the reference. In all subsequent appearances, Scathatch keeps the same pose.
Real World
Edit
References
Edit
Community content is available under
CC-BY-SA
unless otherwise noted.