Poll
What did you say when Atlus USA asked what you'd like to see from Shin Megami Tensei in the future?
To see past poll results, or suggest new polls, check out the Poll Archives!
Are you aware that...

...Raidou Kuzunoha the XIV is revealed to have actually been named Jouhei?

...NINE wasn't created by Atlus but was put under as an SMT game?

The Amala Forums

Law: Improve the wiki structure and organization.

Neutral: Coordinate information on game/series elements.

Chaos: Discuss Megami Tensei topics.
---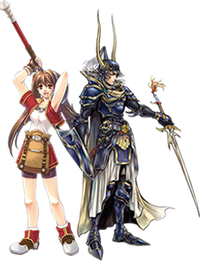 "Another thing that bothered me was the trend of the main character always being portrayed as someone special -- a legendary warrior, for example. It was the equivalent of saying you can't succeed unless you're from a wealthy family, and I just couldn't stand that. I wasn't born with special genes, and I'm sure most other players weren't either. No matter who you are, if you're given a chance and have the guts to try your best, you can become a hero... That became the concept of Megami Tensei."
---
Site Notice
The wiki needs your help with constructive edits and content relevant to gameplay, setting, plot, characters as well as descriptive images and relevant artworks.
If you are wondering how you can help:
---
---
---