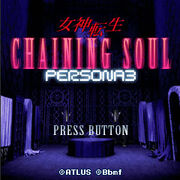 Megami Tensei Chaining Soul: Persona 3 (女神転生CHAINING SOUL ペルソナ3) is a single-player puzzle game for mobile phones. It was offered through the Atlus and Bbmf mobile telephone site called Megaten α starting on May 14, 2007.
A puzzle game that functions much like the game Bejeweled, players are able to damage Shadows by destroying orbs. Through chaining colored orbs, players are able to summon Persona for greater amounts of damage. By defeating enemy shadows within a certain time limit, players are able to clear stages. If shadows are not defeated by the time the limit is reached, the game is over. By creating chains, players are able to lengthen the time limit. Special orbs also play a part in gameplay, such as spell orbs with pentagrams drawn on them that can activate special attacks.
Normal Game: In this mode players must clear the stage by erasing blocks before the time runs out. Clearing stages in this mode earns cell phone wallpapers.
Score Attack: In this mode players attempt to earn the highest score possible by using special attacks and chains. This score is recorded in the Ranking option. 
Characters
Edit
External Links
Edit
Community content is available under
CC-BY-SA
unless otherwise noted.