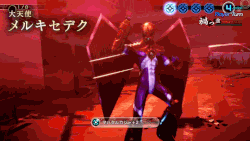 Matarukaja (マハタルカジャ, Mahatarukaja)? is a Prayer skill.
Effect
Matarukaja raises the allying party's attack power. This includes both Physical and Magic attacks.
In the Persona 2 duology, Matarukaja is a Fusion Spell.
In Persona 4 and Persona 5, Matarukaja lasts for 3 turns.
In Persona 5, attack is increased by x1.4.
Skillset
Party Members
By leveling up
By special means
Demons
Persona 3 / FES / Portable
By leveling up
With Skill Cards
In Persona 3 Portable, the protagonist can use a Skill Card to teach Matarukaja to his Personas. It can only be obtained through certain means:
Persona
Rescue reward
1st term exam reward
Persona 4 / Golden
By leveling up
With Skill Cards
In Persona 4 Golden, the protagonist can use a Skill Card to teach Matarukaja to his Personas. It can only be obtained through certain means:
Persona 5 / Royal
By leveling up
With Skill Cards
The protagonist can use a Skill Card to teach Matarukaja to his Personas. It can only be obtained through certain means:
Enemies
Encounters
Persona 5 / Royal