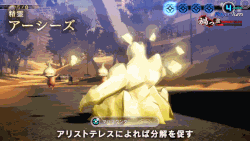 Masukunda (マハスクンダ, Mahasukunda)? is a Prayer skill.
Effect
This topic is in need of research for the following reason:
* Does Masukunda differ from Masukukaja? (E.g. does the base hit rate of skills increase against enemies with decreased evasiveness?)


This can be discussed on the article's talk page.
Masukunda decreases all enemies' hit and evasion rate.
In Shin Megami Tensei IMAGINE, Masukunda temporarily decreases the critical hit chance and critical hit defense of all nearby enemies, and can be stacked up to four times.
In Persona 4 and Persona 5, Masukunda lasts for 3 turns.
Skillset
Party Members
By leveling up
By special means
Demons
Persona 3 / FES / Portable
By leveling up
Persona 4 / Golden
By leveling up
With Skill Cards
In Persona 4 Golden, the protagonist can use a Skill Card to teach Masukunda to his Personas. It can only be obtained through certain means:
Persona 5 / Royal
By leveling up
With Skill Cards
The protagonist can use a Skill Card to teach Masukunda to his Personas. It can only be obtained through certain means:
Enemies
Encounters
Persona 5 / Royal