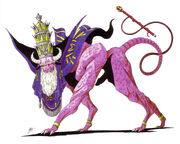 Therion (テリオン, Terion), also known as Master Therion (マスターテリオン), is a demon in the series.
History
Thelema. Therion is a dark god of Aleister Crowley's design which identified with the Beast of Revelation.
Appearances
Profile
Shin Megami Tensei II
When the Aleph encounters Crowley, he says is angry that Lucifer will not allow him to have Sabbaths (orgies involving demons) and takes this frustration out on Aleph in the form of Master Therion. He is eventually defeated.
Gallery