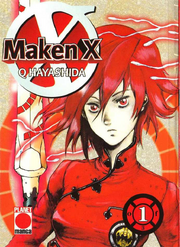 Maken X Another (魔剣X ANOTHER), titled simply Maken X in Germany, is a manga based on Maken X created by Q Hayashida, who is better known for her work on Dorohedoro.
Profile
Maken X Another is a manga adaptation of the Maken X game originally serialized in Monthly Magazine Z. It touched further on the human relationships within the game and expanded on the concept of brain jacking. It was compiled into three tankoban volumes. The three tankoban releases of Maken X Another feature interviews with Hayashida Q, Kazuma Kaneko and Cozy Okada at the end of each tankoban that are not present in any other releases of the manga.
In 2004, the manga was translated and released in Germany by Panini Comics under their Planet Manga label. This release alters some panels to remove swastikas and fixing errors present in the original printings. Some character names have been altered in the German translation, such as Mr. Meteor's name being translated literally as Tensonryuusei.
In December 2008, it was edited and re-released by Enterbrain as a special edition in the two volume compilation Maken X Another Jack. It contains a bonus chapters not present in the original tankoban releases.
Gallery