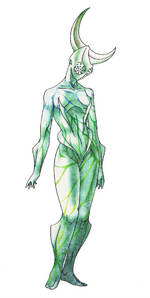 "Yaso Magatsuhi..."
—Yaso Magatsuhi, Shin Megami Tensei IV
Magatsuhi (マガツヒ, Magatsuhi) are two demons found in the series.
Appearances
Edit
Shin Megami Tensei IVEdit
"Yaso Magatsuhi no Kami is the deification of the sources of disaster: impurity, ill fortune, misery, evil, etc... After his return from Yomi, the land of the dead, Izanagi performed a ritual purification to wash the filth of death from himself. Two gods were born from the cast-off filth, one of which was Yaso Magatsuhi."
—Shin Megami Tensei IV Profile
Yaso Magatsuhi is found in the Reverse Hills in Roppongi. The demon releases a sweet-smelling gas that causes hallucinations and fills the entire building. The closer one is to the demon the stronger the gas and thus the reason why all the workers there wear gas masks. Its main use is for Red Pill processing, but is also used to flush out intruders like Flynn's group after they infiltrated the building. After returning to Tokyo upon the route split, Reverse Hills can be revisited and Flynn can get revenge on Yaso Magatsuhi. However, access to the demon can only be obtained by inputting the password 1603. The workers there can understand Yaso Magatsuhi and says it's been complaining about not being able to exercise.
In the battle against him he continues to repeat the same words, only able to express him with his body, showing melancholy to Flynn at the beginning of the battle. He says his name one last time before crumbling, dying peacefully. To unlock him for fusion, Flynn must first go back to Reverse Hills and defeat him, then he must examine the stone that is his defeated remains with the key item, "Hades Soil," in his possession. To fight him, Flynn must re-obtain Key Cards 2-4 by speaking with the Master Samurai at The Hills building in Roppongi after the split. His medium, along with the mediums for the rest of the National Defense Divinities, are obtained by speaking with that same Samurai after the alignment lock.
Shin Megami Tensei: Devil SummonerEdit
Yaso-Magatsuhi (ヤソマガツヒ) and Ou-Magatsuhi (オオマガツヒ) are guardians of Inaruna's tomb and must be defeated to unlock a door leading further into the tomb.
Shin Megami Tensei IVEdit
Race

Level

HP

MP

| | | |
| --- | --- | --- |
| Strength | -- | |
| Dexterity | -- | |
| Magic | -- | |
| Agility | -- | |
| Luck | -- | |

Vile
46
2180
∞
| Phys | Gun | Fire | Ice | Elec | Force | Light | Dark |
| --- | --- | --- | --- | --- | --- | --- | --- |
| - | - | Weak | Repel | - | Repel | - | - |
| | |
| --- | --- |
| Normal Attack | Phys, 2hits, 1 enemy. |
List of Skills

Skill
Effect
Ancient Curse
80% chance of poison, panic, sleep, bind, sick or lost to all foes.
Bufudyne
Heavy ice damage to one foe.
Death's Door
1 point of damage to all foes but drops remaining HP to 1 to sick targets.
Race

Level

HP

MP

| | | |
| --- | --- | --- |
| Strength | 107 | |
| Dexterity | 95 | |
| Magic | 74 | |
| Agility | 86 | |
| Luck | 70 | |

Vile
80
851
170
| Phys | Gun | Fire | Ice | Elec | Force | Light | Dark |
| --- | --- | --- | --- | --- | --- | --- | --- |
| - | - | Weak | Repel | Null | - | - | Null |
| | |
| --- | --- |
| Normal Attack | Phys x1 hit, 1 enemy |
List of Skills

Skill
Cost
Effect
Level
Acid Breath
45 MP
Debuffs all foes' defense and agility by 1 level.
Innate
Shivering Taboo
40 MP
70% of bind panic, sleep sick or poison to all foes.
Innate
Poison Breath
11 MP
70% poison to all foes.
Innate
Bufudyne
14 MP
Heavy ice damage to one foe.
81
Death's Door
10 MP
1 point of damage to all foes but drops remaining HP to 1 to sick targets.
82
Shin Megami Tensei: Devil SummonerEdit
Ou-MagatsuhiEdit
| Race | Level | HP | MP | St | In | Ma | Ag | Lu |
| --- | --- | --- | --- | --- | --- | --- | --- | --- |
| Zoma | 75 | 4000 | 800 | 25 | 17 | 14 | 16 | 17 |

| CP | NOA | P.ATK | P.HIT | B.DEF | AVD | M.ATK | M.DEF |
| --- | --- | --- | --- | --- | --- | --- | --- |
| - | 2-4 | 200 | 138 | 200 | 136 | 36 | 70 |
Yaso-MagatsuhiEdit
| Race | Level | HP | MP | St | In | Ma | Ag | Lu |
| --- | --- | --- | --- | --- | --- | --- | --- | --- |
| Zoma | 80 | 3800 | 980 | 17 | 27 | 27 | 16 | 17 |

| CP | NOA | P.ATK | P.HIT | B.DEF | AVD | M.ATK | M.DEF |
| --- | --- | --- | --- | --- | --- | --- | --- |
| - | 1-3 | 194 | 144 | 194 | 146 | 67 | 81 |
List of Skills

Hellish Flame
Absolute Zero
Thunder Break
Brain Burst
Venom Flash