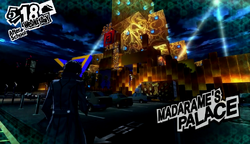 "Welcome to the museum of the master artist Madarame..."
—Shadow Madarame, Persona 5
Madarame's Palace, also known as the Museum of Vanity, is a location in Persona 5. It is the Palace of Ichiryusai Madarame.
Persona 5Edit
A world within the Metaverse created by Ichiryusai Madarame, the location transforms his shack in Shibuya into a Museum. The exhibits contains portraits of "apprentices" that Madarame has taken advantage of, stealing their art and threatening to end their careers if they talk back against him. Among these portraits are Yusuke Kitagawa and Natsuhiko Nakanohara. These represent his views as he only sees his apprentices as his own products. The palace is guarded by security guards and female secretaries. The game's more advanced mechanics such as Treasure Demons and Skill Cards are introduced here.
The Phantom Thieves of Hearts plan a heist to steal Madarame's heart in order to change his mind on stealing Yusuke's art, suing Ann Takamaki for property intrusion and to have him confess his crimes.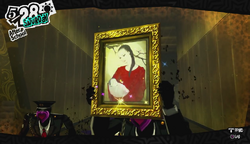 Madarame's Treasure is a recreation of the Sayuri painting in its original state, which depicts Yusuke's mother holding him as a baby. Yusuke later gives the painting to Sojiro Sakura as thanks to let him stay at Cafe Leblanc one night.
Shadow
Lv
Arcana
Personality
Affinity
Koropokguru
9
Hermit
Timid
-
St
Wk
St
-
St
-
-
-
-
-
Hua Po
9
Hanged Man
Upbeat
-
Wk
Rp
Wk
-
-
-
-
-
-
-
Mokoi
9
Death
Gloomy
-
-
-
-
St
Wk
-
-
-
-
-
Jack Frost
11
Magician
Timid
-
-
Wk
Nu
-
-
-
-
-
-
-
Apsaras
11
Priestess
Upbeat
-
-
-
St
Wk
-
-
-
-
-
-
Koppa Tengu
11
Temperance
Upbeat
-
-
-
Wk
-
St
-
-
Wk
-
-
Onmoraki
12
Moon
Gloomy
-
Wk
St
-
-
-
-
-
Wk
Nu
-
Inugami
14
Hanged Man
Timid
-
-
Nu
-
-
Wk
-
-
-
Nu
-
Makami
15
Temperance
Upbeat
-
-
-
-
Wk
St
-
St
Nu
-
-
Nue
20
Moon
Irritable
-
-
Wk
St
-
-
-
-
-
Nu
-
Shiki-Ouji
21
Chariot
Irritable
Nu
Nu
-
-
-
-
-
Wk
Nu
Nu
-
Regent
10
Emperor
Upbeat
St
St
St
St
St
St
Wk
Wk
St
St
-
Shadow
Lv
Arcana
Affinity
Nue
15
Moon
-
-
Wk
St
-
-
-
-
-
St
Ippon-Datara
15
Hermit
-
-
St
-
-
Rp
-
-
St
St
Koppa Tengu
11
Temperance
-
-
-
Wk
-
St
-
-
Wk
-
Shiki-Ouji
16
Chariot
Nu
Nu
-
-
-
-
-
Wk
Nu
Nu
Painter's Mouth
18
-
Dr
Dr
-
-
-
-
-
-
-
-
Painter's Left Eye
18
-
-
-
Dr
Dr
Dr
Dr
-
-
-
-
Painter's Nose
18
-
-
-
-
-
-
-
Dr
Dr
Dr
Dr
Painter's Right Eye
18
-
-
-
Dr
Dr
Dr
Dr
-
-
-
-
Ichiryusai "Azazel" Madarame
18
-
-
-
-
-
-
-
-
-
-
-
Path to courtyard
Courtyard area