Fire Emblem Warriors: Three Hopes - The Loop
Play Sound
Lucia is a Persona in the Persona series.
History
[
]
Lucia of Syracuse, also called Saint Lucia or Saint Lucy, was a Christian martyr who died during the Diocletianic Persecution. She is venerated as the patron saint of the blind. She is one of eight women explicitly commemorated by Roman Catholics in the Canon of the Mass. Her traditional feast day, known in Europe as Saint Lucia's Day, is observed by Western Christians on December 13th. Lucia's name can branch from two words: "lux" (Latin) meaning "light," and "lucid" (English) which means "clear," "vivid" and "intelligible."
She was a devout young woman who led a life of extreme virtue and whose belief in consecrating her virginity for God and whose urge to spend her life on alms enraged her pagan betrothed, who then reported her as a Catholic to the magistrate. When her mother, Eutychia, arranged for her to marry a wealthy pagan, she refused.
Despite Eutychia ultimately coming to respect Lucia's choice and revoking the betrothal, her suitor denounced her as a Christian to the magistrate, threatening to send her to be defiled in a brothel. After her refusal to burn a sacrifice to the emperor, she was immediately sentenced into execution. When the guards came to sentence her to death, she knelt down and prayed for salvation as the guards attempted to move her. Yet, miraculously, she remained fixed to the spot.
The men attempted many ways to move her from verbal abuse to violently stabbing her, even going so far as to set her on fire, but she remained rooted to the ground. Christian traditions state that her body was filled with holy spirits that the guards were not able to take her in by force. They continued to fail in their violence against the girl until her fiancé told the guards that if he could not have those beautiful eyes, no one could. At this point, they decided to cut her throat and gouged her eyes. Even so, she was still able to see and continued prophesying. As a final act, the guard stabbed and killed her. Catholic and Orthodox Christians venerate her now as a martyr and saint. According to church tradition, God repaid her sacrifice by giving her new eyes of pure light, far more beautiful than any on Earth.
Lucia appears in Dante's Inferno as the messenger sent to Beatrice by the Virgin Mary, to rouse Beatrice to send Virgil to Dante's aid. Henry Fanshawe Tozer identifies Lucia as representing "illuminative grace." According to Robert Pogue Harrison and Rachel Jacoff, Lucia's appearance in this intermediary role is to reinforce the scene in which Virgil tries to fortify Dante's courage to begin the journey through the inferno. In Purgatorio, Lucia carries the sleeping Dante to the entrance to purgatory. Then in Paradiso, Dante places her opposite Adam within the Mystic Rose of Paradiso. Lucia may also be seen as a figure of illuminating grace, mercy or even justice.
Appearances
[
]
Profile
[
]
Persona 3

[

]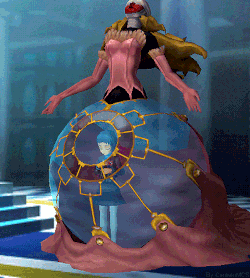 Lucia is a Persona of the Priestess Arcana, awakened by Fuuka Yamagishi on a SEES mission inside Tartarus during the Dark Hour, when she uses her Persona to protect her friend, Natsuki, from two dangerous Shadows. Lucia is unique compared to the other Personas, as she is never used actively in battle, but provides tactical support for the team regarding locations and enemy weaknesses. Regardless, her stats increase each time she gains a level. Symbolic of Saint Lucia, her design depicts her as a woman whose eyes and throat are covered with bandages, with her lower body being that of a giant glass sphere in the form of an eyeball.
Stats
[
]
Persona 3

[

]
| Inherit | Reflects | Absorbs | Block | Resists | Weak |
| --- | --- | --- | --- | --- | --- |
| n/a | - | - | - | - | - |
List of Skills

Skill
Cost
Effect
Level
Full Analysis
Navi
Displays detailed enemy information (stats, resistances, and skills).
Innate
Support Scan
Navi
Displays all buffs and debuffs currently in effect.
23
Third Eye
Navi
Increases information displayed on the target
(shows whether an attack will be nulled, repelled, or absorbed).
32
Healing Wave
Navi
Party recovers 15% HP when ascending to the next floor.
41
| Inherit | Reflects | Absorbs | Block | Resists | Weak |
| --- | --- | --- | --- | --- | --- |
| n/a | - | - | - | - | - |
List of Skills

Skill
Cost
Effect
Level
Full Analysis
Navi
Displays detailed enemy information (stats, resistances, and skills).
Innate
Support Scan
Navi
Displays all buffs and debuffs currently in effect.
23
Third Eye
Navi
Increases information displayed on the target
(shows whether an attack will be nulled, repelled, or absorbed).
32
Healing Wave
Navi
Party recovers 15% HP when ascending to the next floor.
41
Persona Q: Shadow of the Labyrinth

[

]
| Cut | Stab | Bash | Fire | Ice | Elec | Wind | Light | Dark | Alm |
| --- | --- | --- | --- | --- | --- | --- | --- | --- | --- |
| - | - | - | - | - | - | - | - | - | - |
List of Skills

Skill
Cost
Effect
Level
Healing Breeze
1 Gauge
[Navi] Slight HP restore at end of turn, for 3 turns. (Party)
Innate
Prayer
4 Gauges
[Navi] Full HP restore and remove all Binds and ailments. (Party)
32
Healing Tide
3 Gauges
[Navi] Moderate HP restore at end of turn, for 3 turns. (Party)
50
Arcana

Level

| | | |
| --- | --- | --- |
| Strength | 38 | |
| Magic | 40 | |
| Endurance | 32 | |
| Agility | 32 | |
| Luck | 35 | |

Priestess
99
| Cut | Stab | Bash | Fire | Ice | Elec | Wind | Light | Dark | Alm |
| --- | --- | --- | --- | --- | --- | --- | --- | --- | --- |
| - | - | - | - | - | - | - | - | - | - |
List of Skills

Skill
Cost
Effect
Level
Healing Breeze
1 Gauge
[Navi] Slight HP restore at end of turn, for 3 turns. (Party)
Innate
Prayer
4 Gauges
[Navi] Full HP restore and remove all Binds and ailments. (Party)
32
Healing Tide
3 Gauges
[Navi] Moderate HP restore at end of turn, for 3 turns. (Party)
50
Persona Q2: New Cinema Labyrinth

[

]
Arcana

Level

| | | |
| --- | --- | --- |
| Strength | 32 | |
| Magic | 32 | |
| Endurance | 32 | |
| Agility | 32 | |
| Luck | 20 | |

Priestess
26
| Phys | Fire | Ice | Elec | Wind | Psy | Nuke | Bless | Curse | Alm |
| --- | --- | --- | --- | --- | --- | --- | --- | --- | --- |
| - | - | - | - | - | - | - | - | - | - |
List of Skills

Skill
Cost
Effect
Level
Escape Route
1 Gauge
Flee from battle and teleport to floor entrance. (Party)
Innate
Risk Management
Passive
High chance of preventing enemy ambushes.
Innate
Healing Tide
3 Gauges
Moderately restore HP at the end of the turn for 3 turns. (Party)
Innate
Third Eye
Passive
Display nearby FOEs/chests/hidden passages on map.
Innate
Oracle
5 Gauges
Give a random beneficial effect. (Party)
35
Gallery
[
]
Trivia
[
]
Appearances in Other Media
[
]
Love Live! School Idol Festival
[
]
References
[
]