This is a list of patches and updates in the series. They are often incorporated in the original Japanese release over the course of the 2 months after the game's original release, and implemented in the English version upon its release. In the case of worldwide releases, both versions receive support.
[July 9, 2014][1]
Fixed operation stability under specific circumstances
[September 15, 2016][2]
With the opening of DLC distribution, support for additional content has been added.
Other bug fixes.
[September 27, 2016; PS3 only][3]
[November 2, 2016][4]
More support for DLC.
Other bug fixes.
[May 24, 2018; P3D included][5]
For DLC content, the shaking of clothes and hair now works naturally.
[June 21, 2018; P3D included][6]
[July 12, 2018; P3D included; PS Vita only][7]
[November 29, 2018][8]
Some problems were fixed.
Bug fixed in random playback for battle BGM.
Other bugs fixed
The ability to include all songs in random playback, including DLC, has been implemented.
[November 8, 2019][11]
Fixed an issue where events in a certain part of the game could not proceed normally under certain conditions: When solving the mystery of the library in Kamoshida's Palace, if the group returns the three books back on the shelves and then return to the real world without solving the puzzle, the puzzle will become impossible to solve.[12]
Regarding corrupted save data, loading after the update is applied should solve the issue.
Stability improvement and corrected operation under other specific situations.
[December 6, 2019][13]
Fixed an issue where some of Kasumi's parameter gains were not inherited correctly.
[December 11, 2019][14]
In the Mementos Requests "If Cats Disappeared from the City" and "An Idol and a Unicorn," a hang-up situation has been corrected during the dialogue against the bosses.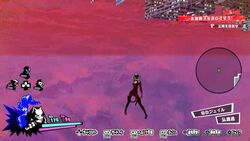 [February 28, 2020][15]
Fixed a bug where at the end of battle, enemies that could not be defeated under specific conditions remained, preventing progress.
Fixed a bug in Sendai's Jail, where due to the malfunction of some gimmicks, the player could fall off the map.
Stability improvement and corrected operation under other specific situations.
[March 12, 2020][16]
Fixed a bug where saving and loading in the Velvet Room could hinder progress. The discovery of this bug has been announced by Atlus of Japan on February 26. If the game is saved while fusing Personas and without leaving the room, reloading that save file might cause the event to not function properly. In addition, it has been confirmed that if it occurs during "Sapporo in August 9th," loading the game will not make it possible to proceed normally the next day.[17]
Fixed a bug where the Showtime and Total Attack might function incorrectly under certain conditions.
Fixed a problem where progress might be incorrect under certain conditions in Osaka.
An issue where certain stealth mode moves malfunction when Morgana's used has been fixed.
Stability improvement and corrected operation under other specific situations.
Implemented auto mode for dialogue in scenes. It can be turned on and off at any time.
Implemented the ability to skip scenes, even if they weren't viewed before. Some scenes are unskippable.
Products from Yongen-Jaya's Vending Machine near the bathhouse can now be replenished after battle.
[April 1, 2020][18]
A problem where certain enemies' skill "Evil Smile" has initially been unable to inflict Fear on allies, has been fixed.
Fixed a problem where players could not progress under certain conditions in certain battles.
Fixed other bugs.
A new feature has been implemented - in Sophia's Shop, it's now possible to sell all items that cost money at once.
[September 2, 2020][19]
Fixes to video quizzes
Fixes to cutscene playback, including a lower playback mode for smoother play on older machines.
Soft locks occurring around Personamations
Random crashes reported
Crashes related to removing Xbox One controllers
A hang issue that occurs during Midnight Trivia Quiz
Blank items in inventory causing crashes and freezes.
Please note that if you are experiencing this issue, your old saves will retain the blank item, so it is suggested that you generate new saves and avoid old saves with blank items.
An audio issue related the audio setting during Yosuke's Calvary Attack.
A progression issue that occurs when entering Yukiko's castle.
Addresses a known issue where Quest 3 could not be completed by some players.
Optimized cutscene movies for better playback that was causing stuttering.
When using high resolution monitors, resolved an issue where the Windows 10 resolution scaling was being applied.
Fixed a freeze issue when equipping a blank item in "Equip > Clothes".
If you have a blank item in the Clothes menu, please be sure to remove it as these blank items can be still in your currently saved game data. Equipping blank items can trigger various freeze issues in other locations.
Resolved a soft lock that could occur after an All-Out-Attack.
Community content is available under
CC-BY-SA
unless otherwise noted.