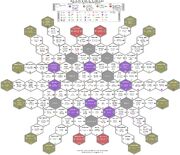 This is a list of Mantra in Digital Devil Saga: Avatar Tuner 2.
Mantra Grid can be accessed at any save point.
Upon purchasing a new Mantra, it is immediately equipped on that character, but the player can assign another purchased Mantra.
To learn the skills in a Mantra, the character needs to accumulate sufficient Atma Points (AP) from battle to master the equipped Mantra.
Once the character has mastered a Mantra, the adjacent Mantras are unlocked for purchase for that character.
Equipping a mastered Mantra has no meaning except for wasting the earned AP from battle.
To unlock each "Esoteric" Mantra requires all adjacent Mantras mastered by any character. Therefore, the player can assign different character to learn the different Mantra around that Esoteric Mantra to allow quicker unlock.
"Stat Boost" Mantra is unlocked in the similar fashion as Esoteric Mantra. The instant it is unlocked, all party members' stats of the correlated Mantra are enhanced permanently.
"Boss unlockable" Mantra requires the player to defeat the respective boss before unlocking.
Sera inherits all of Serph's Mantras at one point, then Seraph inherits both Serph and Sera's Mantras.
For the effect of the skills, please refer to the list of skills page.
Italic font denotes passive skill.
Mantra
Category
Difficulty
Cost
Skill 1
Skill 2
Skill 3
Skill 4
Boss
Shura
Physical
1
1,000
Body Rush
Mad Rush
Sramana
Physical
2
2,500
Venom Claw
Double Slash
Life Bonus
Bhikkhuni
Physical
2
2,500
Raving Slash
Critical
Quick Cure
Resolution
Priestess
Physical
3
10,000
Death Spray
Counter
Quick Escape
Vanquisher
Physical
3
10,000
Mute Blow
Chi Blast
Maiden
Physical
4
25,000
Stun Needle
Comatose
First Strike
Null Critical
Violent God
Physical
4
25,000
Skull Cleave
Death Blow
Retaliate
Cruel Leader
Physical
5
100,000
Power Wave
Life Gain
Demon Soldier
Physical
5
100,000
Mind Scream
Power Charge
Void Phys
Vengeance
Princess
Physical
5
100,000
Charm Slash
Counterstrike
Null Risks
Warrior King
Physical
6
250,000
Bloodbath
Demon Rage
Overlord
Physical
6
400,000
Executioner
Phys Resist
Queen
Physical
6
250,000
Sakura Rage
Attack All
Close Call
Amatsukami
Physical
7
600,000
Gate of Hell
Life Surge
Goddess
Physical
7
600,000
Revelation
High Counter
Deploy
Double Repel
Destroyer
Physical
8
1,500,000
Godslayer
Ragnarok
Null Phys
Devourer
Physical-Hunt
1
1,000
Devour
Ingest Mana
Demon
Physical-Hunt
3
5,000
Vile Blade
Devil Feast
Taunt
Horror
Demon Beast
Physical-Hunt
3
10,000
Feed Frenzy
Rend Asunder
Atma Bonus
Iron Stomach
Holy Beast
Physical-Hunt
4
40,000
Hell Fang
Consume
AP Divide
Battle Demon
Physical-Hunt
4
25,000
Venom Fang
Ingest
Paralyze
Godly Beast
Physical-Hunt
6
400,000
Insatiable
Atma Premium
Devour Mana
Demon Lord
Physical-Hunt
6
250,000
Genocide
Great Feast
Phys Repel
Petrify
Demon God
Physical-Hunt
7
600,000
Last Meal
Phys Drain
Fire Spirit
Magic-Fire
1
1,000
Agi
Void Fire
Fire Demon
Magic-Fire
2
2,500
Maragi
Fire Boost
Fire Leader
Magic-Fire
3
10,000
Agilao
Flame Breath
Fire Repel
Fire Lord
Magic-Fire
4
25,000
Maragion
Fire Drain
Fire Emperor
Magic-Fire
5
100,000
Agidyne
Explode
Fire Amp
Fire God
Magic-Fire
6
250,000
Maragidyne
Fire Resist
Sublime Fire
Magic-Fire
7
600,000
Trisagion
Ice Spirit
Magic-Ice
1
1,000
Bufu
Void Ice
Ice Demon
Magic-Ice
2
2,500
Mabufu
Ice Boost
Ice Leader
Magic-Ice
3
10,000
Bufula
Frost Breath
Ice Repel
Ice Wolf
Magic-Ice
4
25,000
Mabufula
Ice Drain
Ice Master
Magic-Ice
5
100,000
Bufudyne
Cold Wave
Ice Amp
Ice God
Magic-Ice
6
250,000
Mabufudyne
Ice Resist
Sublime Ice
Magic-Ice
7
600,000
Niflheim
Bolt Wizard
Magic-Elec
1
1,000
Zio
Void Elec
Bolt Lord
Magic-Elec
2
2,500
Mazio
Elec Boost
Lightning
Magic-Elec
3
10,000
Zionga
Bolt Flare
Elec Repel
Bolt Emperor
Magic-Elec
4
25,000
Mazionga
Elec Drain
Bolt Master
Magic-Elec
5
100,000
Ziodyne
Jupiter's Fury
Elec Amp
Bolt God
Magic-Elec
6
250,000
Maziodyne
Elec Resist
Sublime Bolt
Magic-Elec
7
600,000
Narukami
Dragon
Magic-Force
1
1,000
Zan
Void Force
Dragon Lord
Magic-Force
2
2,500
Mazan
Force Boost
Hiten
Magic-Force
3
10,000
Zanma
Shock Wave
Force Repel
Sky Dragon
Magic-Force
4
25,000
Mazanma
Force Drain
Sky Wizard
Magic-Force
5
100,000
Zandyne
Tempest
Force Amp
Wind God
Magic-Force
6
250,000
Mazandyne
Force Resist
Sublime Wind
Magic-Force
7
600,000
Vayaviya
Earth Spirit
Magic-Earth
1
1,000
Tera
Void Earth
Earth Shrine
Magic-Earth
2
2,500
Matera
Earth Boost
Earth Temple
Magic-Earth
3
10,000
Terazi
Avalanche
Earth Repel
Earth Lord
Magic-Earth
4
25,000
Materazi
Earth Drain
Earth Emperor
Magic-Earth
5
100,000
Teradyne
Heavy Rock
Earth Amp
Mother Earth
Magic-Earth
6
250,000
Materadyne
Earth Resist
Sublime Earth
Magic-Earth
7
600,000
Titanomachia
Dark Leader
Magic-Almighty
5
150,000
Megido
Mind Charge
Dark Lord
Magic-Almighty
6
300,000
Megidola
Last Word
Dark King
Magic-Almighty
7
800,000
Megidolaon
Magic Repel
Dark God
Magic-Almighty
8
1,500,000
Null Element
Angel
Magic-Expel
2
2,500
Hama
Tarunda
Void Expel
Archangel
Magic-Expel
3
10,000
Mahama
Sukunda
Expel Resist
Thrones
Magic-Expel
4
40,000
Hamaon
Makanda
Makatora
Expel Repel
Cherubim
Magic-Expel
5
120,000
Mahamaon
Rakunda
Null Expel
Seraphim
Magic-Expel
7
800,000
Xanadu
Dekaja
Yaksa
Magic-Death
2
2,500
Mudo
Curse
Void Death
Evil Spirit
Magic-Death
3
10,000
Mamudo
Blood Curse
Stone Gaze
Death Resist
Dark Spirit
Magic-Death
4
40,000
Mudoon
Wicked Curse
Death Repel
Death
Magic-Death
5
120,000
Mamudoon
Petrifier
Null Death
Adamant
Magic-Ailment
2
2,500
Pulinpa
Stun Sphere
Void Panic
Void Nerve
Kichijyo
Magic-Ailment
3
10,000
Marin Karin
Foul Breath
Void Charm
Void Poison
Vidya Raja
Magic-Ailment
4
25,000
Allure
Neural Shock
Poison Mist
Null Nerve
Holy Leader
Magic-Ailment
5
100,000
Tentarafoo
Stun Wave
Null Panic
Null Poison
Mukti
Magic-Ailment
6
250,000
Fatal Charm
Poison Rain
Void Ailment
Null Charm
Formless
Magic-Ailment
7
800,000
Vanity
Null Ailment
Protection
Magic-Healing
1
1,000
Dia
Patra
Analyze
Fallen Hero
Magic-Healing
2
2,000
Media
Posumudi
Achedi
Dream Haze
Fierce Spirit
Magic-Healing
3
15,000
Diarama
Paraladi
Me Patra
Calm Spirit
Magic-Healing
4
40,000
Mediarama
Closedi
Cursedi
Dormina
Progenitor
Magic-Healing
5
120,000
Diarahan
Petradi
Death Spirit
Magic-Healing
6
300,000
Mediarahan
Vicious God
Magic-Healing
8
1,500,000
Salvation
Auto Soma
Hades
Magic-Life
4
25,000
Recarm
Six Realms
Magic-Life
6
50,000
Samarecarm
World
Magic-Life
6
300,000
Recarmdra
Calm Death
Spirit
Magic-Support
1
1,000
Tarukaja
Makajam
Void Mute
Karma
Magic-Support
2
5,000
Sukukaja
HP Thief
Mana Bonus
Twilight
Magic-Support
3
15,000
Makakaja
Makajamon
MP Thief
Curse
Magic-Support
4
40,000
Rakukaja
Enervate
Silent Howl
Arcane
Magic-Support
5
120,000
Dark Mirage
Null Mute
Mana Gain
Illusion
Magic-Support
6
250,000
Spell Gloom
Dekunda
Evil God
Magic-Support
7
800,000
Debilitate
Mana Surge
Esoteric 1
Esoteric
2
3,000
Mutual Karma
Esoteric 2
Esoteric
2
3,000
Miser's Spirit
Esoteric 3
Esoteric
3
10,000
Item Find
Esoteric 4
Esoteric
4
10,000
Level Gift
Esoteric 5
Esoteric
5
100,000
Full Banquet
Chakra Walk
MAX Critical
Esoteric 6
Esoteric
5
100,000
New Banquet
Leech
MIN Critical
Esoteric 7
Esoteric
5
200,000
Cocytus
Auto-Chakra
Esoteric 8
Esoteric
5
200,000
Null Sleep
Mana Walk
Dragonslayer
Boss unlockable
9
1,500,000
Divine Light
Fire of Sinai
Michael
God of Light
Boss unlockable
9
2,000,000
Chaturbhuja
Celestial Ray
Vishnu
Aksara
Boss unlockable
9
2,000,000
Third Eye
Phys Absorb
Shiva
Root of Evil
Boss unlockable
9
2,500,000
Spiteful Force
Death Flies
Seth