Raise a Floppa - The Loop
Play Sound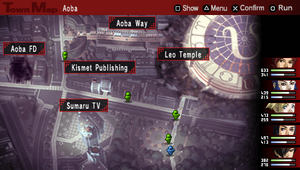 "Leo... It embodies the element of fire and symbolizes justice and leadership, as well as generosity and life..."
—Jun Kurosu, Innocent Sin
Leo Temple is a location in Persona 2.
Appearances
Profile
Innocent Sin
The Leo Temple is one of the four astrological temples, appearing after Xibalba is activated from the depths of Caracol, from which the party must retrieve the Crystal Skulls; the Leo Temple holds the Fire Crystal Skull. The interior structure of each temple changes depending on the order in which it is done, and once the player enters a temple no other temple can be entered until it is finished.
In each of the temples, one of the character's Ultimate Persona can be upgraded if it is equipped before and during the temple's boss fight. Leo Temple is Tatsuya's temple - if he is equipped with Apollo when Shadow Tatsuya is fought, Apollo will become invulnerable to Nuclear and Darkness.
Treasures
Innocent Sin
1F: ¥50000, Dordona's Oar
2F: Vi Card x1
3F: Ohnusa x3, Physical Guard x3
Enemies
Purple

boxes indicate rumor demons.

Indigo

boxes indicate bosses.
Innocent Sin
Enemy
Lv
HP
Arcana
Drop
Rare
Leo Mask 1
33
215
Leo
-
-
-
-
-

Nu

Wk

-
-
-
-

Nu

St

St

-

St

Maragion Card
-
Virulenz Kraft
40
270
Reich

Wk

Wk

Wk

Wk

Wk

St

St

St

St

St

St

St

St

St

St

St

Freila Card
-
Orthrus
40
347
Fortune

St

St

St

St

St

-
-
-
-
-
-
-

St

St

-

Wk

St Card
-
Barbatos
41
314
Hanged Man
-
-
-
-
-
-
-

Wk

Rp

-
-
-

St

St

-

St

Zanma Card
Wavelength Card
Catoblepas
42
387
Hermit

St

St

St

St

St

-
-
-
-
-
-
-

St

St

-

Wk

Bead
Magnadyne Card
Aeshma
42
317
Tower
-
-
-
-
-
-
-
-
-
-
-
-

Nu

Nu

-

St

Rattle Drink
Freila Card
Taksaka
43
356
Strength

St

St

St

St

St

St

St

St

St

St

Wk

St

Nu

Nu

St

Nu

Physical Guard
-
Melchizedek
43
351
Judge.
-
-
-
-
-
-
-
-
-
-
-
-

Rp

Wk

-

St

Miracle Egg
Garudyne Card
Sharf Shutze
43
285
Reich
-
-
-
-
-
-
-
-
-
-
-
-

Nu

St

-

St

Brink Tea
-
Ankou
44
336
Death
-
-
-
-
-
-
-
-
-
-
-
-

Rp

Rp

-

St

Fluted Legs
-
Leo Mask Real
44
295
Leo
-
-
-
-
-

Nu

Wk

-
-
-
-

Dr

St

St

-

St

Agidyne Card
-
Maschinen Kommando
45
400
Reich
-
-
-
-
-
-
-
-
-
-
-
-

Nu

St

-

St

Vital Parts Guide
-
Shadow Tatsuya
53
3590
?
-
-
-
-
-

Nu

-
-
-
-

St

Nu

-

Nu

-

St

Fire Crystal Skull