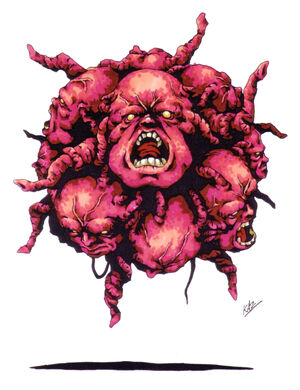 Legion (レギオン, Region) is a recurring demon in the series, based on an account from the Bible.
History
"The spirit who said, "For we are many," in ancient scriptures. The name comes from the Roman military term for an army unit of 3,000 to 6,000 men."
—Compendium Info
Legion is based on the story mentioned in Christian literature. In the account, Jesus was said to have healed a man from a region in Caesaria Maritima in the Near East who was possessed by many demons. Jesus casts the demons out of the man, granting their request, and allows them to dwell in a herd of pigs. The pigs then drowned themselves in the Sea of Galilee.
Appearances
Stats
Persona 3
| Inherit | Resists | Block | Absorbs | Reflects | Weak |
| --- | --- | --- | --- | --- | --- |
| All | Ice | Dark | None | | Light |
List of Skills

Skill
Cost
Effect
Level
Assault Dive
9% HP
Deals light Strike damage to one foe.
Innate
Pulinpa
5 SP
Makes 1 foe Panic. (25% chance)
Innate
Rebellion
5 SP
Increases Critical Rate (all).
Innate
Sexy Dance
10 SP
Charms all foes. (25% chance)
24
Panic Boost
Passive
Increases odds of instilling Panic by 50%.
25
Bewilder
5 SP
Distresses 1 foe. (25% chance)
27
Persona 4
| Level | Arcana | St | Ma | En | Ag | Lu |
| --- | --- | --- | --- | --- | --- | --- |
| 22 | Fool | 14 | 14 | 18 | 13 | 11 |
| Inherit | Resists | Block | Absorbs | Reflects | Weak |
| --- | --- | --- | --- | --- | --- |
| Negative Status | Fire, Ice, Dark | Dark | None | None | Light |
Skills
Persona 4
| Skill | Effect | Cost | Level |
| --- | --- | --- | --- |
| Tentarafoo | 25% chance of inflicting the Confusion ailment to all enemies. | 10 SP | Innate |
| Mudo | Darkness; Low chance of instant death to one enemy. | 8 SP | Innate |
| Evil Smile | 25% chance of inflicting the Fear ailment to all enemies. | 10 SP | Innate |
| Rampage | Low Phys damage x1 - x3 to all enemies. | 12% HP | 23 |
| Confuse Boost | Confusion-based attacks are 1.5 times more effective. | Passive | 24 |
| Foul Breath | Increase susceptibility to ailments. | Passive | 25 |
| Survive Light | 50% chance of surviving instant death one time from a Light attack with 1 HP. | Passive | 26 |
Gallery