World of Warcraft: Dragonflight - The Loop
Play Sound
Laundry is a mechanic in the series.
Appearances
Profile
Persona 5 / Royal
"Hey... That stuff is disgusting. You should get it cleaned somewhere... Anywhere... Wait, wasn't there a coin laundry near Leblanc?"
—
Morgana
when first finding dirty armor,
Persona 5
The protagonist can use the laundromats in Yongen-Jaya (near the bathhouse) to wash any dirty armor he found.
The facility costs ¥200 to use, and the protagonist can put 4 pieces of armor at most at a time. Time will pass.
Armor is categorized in 4 types: men, women, unisex and Morgana's armor. Morgana cannot put on male or unisex armor.
Futaba Sakura can also equip armor, however as she's a Navigator it has no effect on her.
Each type of dirty armor can transform into four specific pieces of armor after washing, each differentiating between their armor type. The armor type is determined upon washing, so it's possible to reload to an earlier save state to get a different armor. More types of dirty armor can be found as the game progresses, with each being able to be cleaned into stronger, more effective equipment.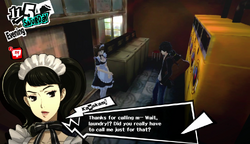 If the protagonist has ranked up Sadayo Kawakami's Confidant to Rank 3, she'll be able to do laundry in his place. For more information, see Confidant/Sadayo Kawakami.
In Persona 5 Royal, the facilities cost ¥400. Dirty armor, now referred to as "Sooty armor," can now only give one of a certain armor of a specific type, divided into old, weaker armor, and its regular variant with higher defense and stronger secondary effects. All types of Sooty armor can only be received via negotiating with specific Shadows. In some cases, the enemy can also drop the armor upon being defeated.
Additionally, in Royal only, the protagonist can encounter Sojiro Sakura or Tae Takemi, which will grant him one Confidant point with that person. The number is fixed and modifiers such as Persona of a matching Arcana or scoring high on exams apply.
They appear after the protagonist has used the laundromats at least three times, and the weather is good. Additionally, Sojiro appears on odd days, and Takemi appears on even days, but not all dates can apply. He can only encounter each of them via this activity once.
List of Dirty Armor
Persona 5
Persona 5 Royal