Laundry is a mechanic in the series.
Appearances
Profile
Persona 5 / Royal
The protagonist can use the laundromats in Yongen-Jaya (near the bathhouse) to wash any dirty armor he found.
The facility costs ¥200 to use, and the protagonist can put 4 pieces of armor at most at a time. Time will pass.
Armor is categorized in 4 types: men, women, unisex and Morgana's armor. Morgana cannot put on male or unisex armor.
Each type of dirty armor can transform into 4 specific pieces of armor after washing, each differentiating between their armor type. The armor type is determined upon washing, so it's possible to reload to an earlier save state to get a different armor. More types of dirty armor can be found as the game progresses, with each being able to be cleaned into stronger, more effective equipment.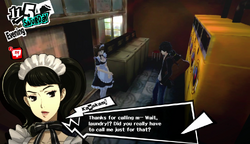 If the protagonist has ranked up Sadayo Kawakami's Confidant to Rank 3, she'll be able to do laundry in his place.
In Persona 5 Royal, the facilities cost ¥400. Dirty armor can now only give 1 of certain armor of a specific type.
Additionally, in Royal only, the protagonist can encounter Sojiro Sakura or Tae Takemi, which will grant him one Confidant point with that person. The number is fixed and modifiers such as Persona of a matching Arcana or scoring high on exams apply.
They appear after the protagonist has used the laundromats at least 3 times, and the weather is good. Additionally, Sojiro appears on odd days, and Takemi appears on even days, but not all dates can apply. He can only encounter each of them via this activity once.
List of Dirty Armor
Persona 5
Royal
Dirty armor
Viable armor
Name
Defense
Evasion
Effect
For
Sooty Ghastly Gear
Old Pajamas
57
15
+Resist Sleep
Unisex
Succubus Pajamas
68
15
+Null Sleep
Sooty Boots
Old Cat Collar
59
14
Ma+1
Cats
Cat Knight's Collar
70
14
Ma+3
Sooty Ladies' Armor
Old Angel's Cape
60
11
+Evade Magic (low)
Females
Angel's Cape
71
11
+Evade Magic (med)
Sooty Heavy Armor
Old Duke's Coat
64
6
+10 HP
Males
Duke's Coat
75
6
+30 HP
Sooty Cheongsam
Old Cheongsam
88
12
Ag+1
Females
Fairy Cheongsam
104
12
Ag+3
Sooty Yorishiro
Old Ghastly Dress
94
7
+Reduce Physical dmg (low)
Males
Shikigami Dress
110
7
+Reduce Physical dmg (med)
Sooty Ogress' Gear
Old Fiery Apron
111
13
+10 HP
Females
Fiery Apron
132
13
+30 HP
Sooty Man's Armor
Old Haori
118
8
En+1
Males
Old Robe
137
15
+10 SP
Females
Sooty Cat's Armor
Nekomata Coat
129
16
+Evade Psy (high)
Cats
Sooty Snakeskin
Old Snakeskin Scarf
134
18
En+1
Snakeskin Scarf
158
18
En+5
Sooty Man's Armor
Dishonored Haori
140
8
En+5
Males
Sooty Wolf's Coat
Old Shroud
146
10
+10 SP
Royal Holy Shroud
171
10
+30 SP
Unisex
Sooty Divine Armor
Arcane Robe
161
15
+30 SP
Females
Sooty Astro Armor
Old Undershirt
164
16
+Resist Brainwash
Lil Devil Undershirt
193
16
+Null Brainwash
Sooty Black Armor
Old Ghillie Vest
174
11
+Repel Physical (low)
Males
Ghillie Vest
205
1
+Repel Physical (med)
Unisex
Sooty Feather Coat
Old Shocking Scarf
189
19
+Reduce Elec dmg (low)
Cats
Shocking Scarf
189
19
+Reduce Elec dmg (med)
Sooty Lion's Mane
Old Wild Lion Scarf
221
22
+Evade Physical (low)
Wild Lion Scarf
259
22
+Evade Physical (med)
Sooty Grifter's Garb
Divine Black Tights
228
17
En+6
Females
Sooty Gilded Collar
Old Infinity Scarf
291
23
+10 HP
Cats
Bottomless Scarf
305
23
+50 HP
Sooty Bolt Armor
Old Underwear
316
15
+10 HP
Males
Lucky Underwear
330
15
+50 HP