Fire Emblem Warriors: Three Hopes - The Loop
Play Sound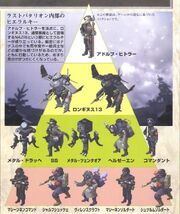 The Last Battalion is an organization in Persona 2: Innocent Sin.
History
[
]
The Last Battalion is based on the troops of Nazi Germany, the regime ruling over Germany from 1933 to 1945. Nazi Germany, under Hitler's rule, was known as one of the most notorious dictatorships in human history and is often used as a symbol of evil, and more currently, used in political debates to demonize opponents. It is estimated from 1933 to 1945, the regime killed over 20 million people through executions and mass genocide.
Profile
[
]
One of the destructive rumors that Nyarlathotep spread to unleash worldly destruction and to win his bet against Philemon is the revival of the Nazis, now known as the "Last Battalion" situating within Antarctica.
According to the rumor, the ranks of the Antarctic Nazis swelled, and now there are supposedly two million Nazis on the South Pole, with extremely advanced technology. There is a UFO buried under the Antarctic ice, and the Fuhrer wants to raise it and have it populated by the Last Battalion, who are the chosen ones. In Lak'ech predicted the reappearance of the Last Battalion before Xibalba was supposed to take off.
The Last Battalion has a pyramidal hierarchy, as explained below:
The giant planes of the Nazi force are called the Me666B-0 Giants. The "Me" refers either to the Merovingian Dynasty, a race of Frankish kings who supposedly descended from Jesus and Mary Magdalene, or Messerschmitt, which was a aircraft company that produced most of Germany's air force in World War II.
Persona 2: Innocent Sin

[

]
According to the rumors recorded in the mystical tome In Lak'ech, at the end of World War II, the Fuhrer escaped with an elite group of troops in a set of submarines, and they set up a base on the South Pole. Due to Sumaru City's special properties, this rumor became reality as soon as the book was spread through the city.
The Last Battalion invades Sumaru City en masse in order to destroy the Masked Circle and seize the power of Xibalba beneath Mt. Katatsumuri.