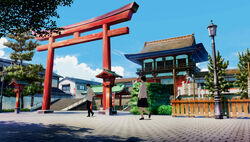 Kyoto is a location in Persona 3 and Persona 5 Strikers.
History
[
]
Kyoto (京都, Kyōto)?, officially Kyoto City (京都市, Kyōto-shi)?, is the capital city of Kyoto Prefecture in Japan. Located in the Kansai region on the island of Honshu, Kyoto forms a part of the Keihanshin metropolitan area along with Osaka and Kobe. As of 2018, the city had a population of 1.47 million.
In 794, Kyoto (then known as Heian-kyō) was chosen as the new seat of Japan's imperial court. The Emperors of Japan ruled from Kyoto in the following eleven centuries until 1869, when the court relocated to Tokyo.
In 1863, a special police force referred to as the Shinsengumi, was founded.
Kyoto is considered the cultural capital of Japan and a major tourist destination. It is home to numerous Buddhist temples, Shinto shrines, palaces and gardens.
Appearances
[
]
Profile
[
]
Persona 3

[

]
Over the course of four days, the students of Gekkoukan High School travel to Kyoto as part of their school excursion. Parts of their tour included visiting historical sites aboard a tour bus, and a walking tour of Kyoto. They stay at the Higashiyama-ku ward, in Godaigo Inn, which was a fictional building.
During their tour, they likely visit Kinkaku-ji, a Zen Buddhist temple. It is one of the most popular buildings in Japan, attracting many visitors annually.
Yukari and Mitsuru visit the Kamogawa River near Sanjō Bridge.
Persona 5 Strikers

[

]
Kyoto is one of the locations the Phantom Thieves travel to during their summer vacation, and was first entered as a detour, after Sapporo's Jail case was solved. Zenkichi Hasegawa and his daughter, Akane Hasegawa live in Kyoto after an incident that occured two years ago that resulted in the death of Zenkichi's wife, Aoi Hasegawa to a drunk hit-and-run from Jyun Owada and its subsequent cover-up.
The proper exploration occurs after the Jail in Okinawa was neutralized. Because the Phantom Thieves enter there per emergency invitation by Zenkichi Hasegawa and plan to go to Osaka the next day due to a Jail being detected there after a wrong turn, they are not able to perform sightseeing there, although they do visit the same Godaigo Inn as S.E.E.S. However, when the Thieves are all inside the Inn, Miyako Kaburagi was bribed by Owada to capture the Phantom Thieves and Zenkichi takes the their place instead. This leads to a search warrant on the Hasegawa residence, where Akane absentmindedly calls someone to save her only for the EMMA application on the phone to respond to her pleas on her own volition. Having seen Owada and Kaburagi failing to catch the Thieves, Owada's (faux) accomplice, the Madicce CEO, Akira Konoe, decides to take matters on his own and asks EMMA for an easy way to capture them. EMMA suggested to him that he might use the Jail of an unknown friend of the Phantom Thieves to change their hearts or kill them. Konoe agrees to the decision and asks her to turn that person into a King, erecting the Kyoto Jail in Fushimi Inari-taisha, the head shrine of the Inari Shrines in the Fushimi-ku ward and the Higashi Otani Cemetery in the Higashiyama-ku ward. Because Akane was the only person who had requested to make a Jail using EMMA (albeit unwittingly), EMMA turns Akane into a King without telling Konoe about her.
EMMA then impersonates Akane via SNS to bait the Thieves into a trap even if they knew it was obviously a trap. The plan she formulated is successful, and all the Thieves played perfectly into it; all of the Thieves' combatants are lured by what seems to be Akane tied on a branch, but that was in fact her Shadow, who has taken the same megalomaniacal personality as Konoe himself. Therefore, they all found themselves trapped in a wooden cage, only for Futaba Sakura to not fall for it because of a lucky tripping that made her fall behind. She was able to contact Zenkichi who was freed with Sae Niijima's help, and Zenkichi and Futaba teams up to save the party.
The party's Hideout after this event is not in the camping van unlike other prefectures. Instead, they have to stay in Zenkichi's underground attic before saving Akane.
After saving Akane from EMMA's control, the party departs for Osaka in order to capture the culprit of the Japan-wide Change of Heart incidents.
Gallery
[
]