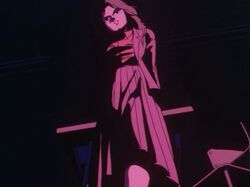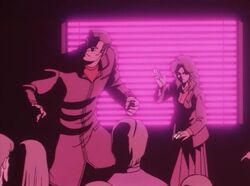 Kyoko Takamizawa is a minor antagonist in Digital Devil Story: Megami Tensei.
Appearances
Edit
Digital Devil Story: Megami TenseiEdit
Kyoko is a student in Jusho High School and is part of the "gifted" class, although she is considered unintelligent by others in the same class, such as Kenichi Takai. Early in the novel's story, Kyoko has Hiroyuki Kondo beat up Akemi Nakajima. Kyoko had made advances on the latter, which were rejected. Insulted, she told Kondo that Nakajima had flirted with her.
Her actions served to provoke the already disturbed Nakajima's activation of the Demon Summoning Program, which initially was meant to target Kyoko and Kondo specifically. The program activates during a computer class, and students begin to surround Kyoko. Despite attempts from the class's teacher, Iida, to protect her, the possessed students nevertheless are able to reach and kill her.
Later after her death, the image of Kyoko would be used to torment Nakajima and remind him of his sins during his battles against Loki and later Seth.
Community content is available under
CC-BY-SA
unless otherwise noted.